Ex-Enron accountant pleads guilty to fraud
(AP)
Updated: 2005-12-29 08:34
A former top accountant at Enron Corp. sealed his plea deal with prosecutors Wednesday, becoming a key potential witness in the upcoming fraud trial of former CEOs Kenneth Lay and Jeffrey Skilling.
Lay and Skilling were granted two extra weeks to adjust to the setback before their much anticipated trial, the last and biggest of a string of corporate scandal cases, starts at the end of January.
The accountant, Richard Causey, pleaded guilty to securities fraud Wednesday in return for a seven-year prison term ¡ª which could be shortened to five years if prosecutors are satisfied with his cooperation in the trial. He also must forfeit $1.25 million to the government, according to the plea deal.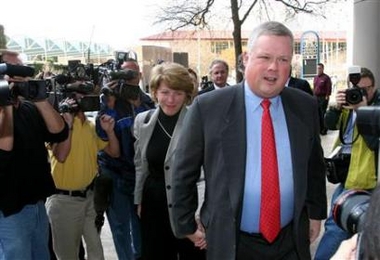 Former Enron Chief Accounting Officer Richard Causey and wife Bitsy enter the Houston Federal Courthouse on his way to pleading guilty to securities fraud in a plea bargain with prosecutors in Houston December 28, 2005. [Reuters]

Causey's arrangement included a five-page statement of fact in which he admitted that he and other senior Enron managers made various false public filings and statements.

"Did you intend in these false public filings and false public statements, intend to deceive the investing public?" U.S. District Judge Sim Lake asked.

"Yes, your honor," replied Causey, who said little during the short hearing, appearing calm, whispering to his attorneys and answering questions politely.

Lay, Skilling and Causey had been scheduled to be tried together Jan. 17 on conspiracy, fraud and other charges related to the scandal-ridden company's collapse more than four years ago. The deal leaves Lay and Skilling with another opponent rather than an ally who has been part of their united defense front since the trio was first indicted last year.

After Causey's plea, the judge granted a defense request to delay the trial's start for two weeks, until Jan. 30.

Causey's formal sentencing was set for April 21 but could be postponed. The maximum penalty for securities fraud is 10 years in prison and a fine of $1 million or twice the amount illegally gained, followed by three years of probation.

The amount of cash Causey must forfeit is slim compared to multimillion-dollar fines and forfeitures assessed to other former Enron executives who admitted to crimes. Former finance chief Andrew Fastow, who masterminded schemes to manipulate Enron's books while skimming millions for himself on the side, agreed to forfeit nearly $30 million in cash and property when he pleaded guilty to two counts of conspiracy in January 2004.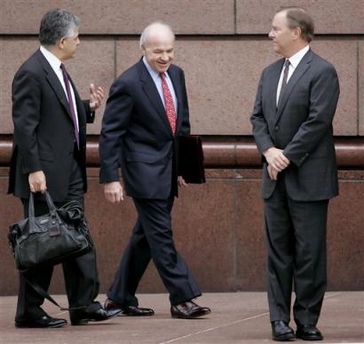 Former Enron CEO Jeffrey Skilling, right, waits to cross the street as Enron founder Kenneth Lay, center, talks with Skilling's lawyer, Daniel Petrocelli, left, as they make their way to the federal courthouse for a pretrial hearing Friday, Dec. 16, 2005 in Houston.[AP/file]

Also, Causey's lawyers have repeatedly noted in filings that their client didn't have the resources to set aside $20 million-plus for legal fees like Skilling and Fastow, often forcing them to tag on to the wealthier defendants' trial preparation efforts.

Causey's attorney, Reid Weingarten, said Causey reached the deal because it was the right thing to do. Weingarten also represented former WorldCom CEO Bernard Ebbers, who was sentenced in July to 25 years in prison for orchestrating the $11 billion accounting fraud that toppled the telecommunications firm three years ago.

He said Causey signed a plea agreement, not a cooperation agreement, but that he will work with prosecutors.

"What is true to the extent that he has any involvement in any upcoming legal proceedings, he will do one thing: He will tell to truth, because that is who he is, that is what he should do, and that is what he is going to do," Weingarten said.

Causey, the government's 16th cooperating witness in exchange for a plea, had faced more than 30 counts of conspiracy, fraud, insider trading, lying to auditors and money laundering.

Many of the charges against Causey overlapped with the 35 counts of fraud, conspiracy, lying to auditors and insider trading pending against Skilling. The pair are accused of conspiring with others to fool investors into believing a wobbly Enron was healthy in the years leading to its December 2001 crash.

The securities fraud count to which Causey pleaded guilty is among those also pending against Skilling.

Some of Causey's charges also overlap with the seven fraud and conspiracy counts pending against Lay, in which the former chairman is accused of perpetuating the ruse after Skilling's abrupt resignation in August 2001.

Skilling and Lay maintain that they neither committed nor knew of any crimes at Enron, and both have pleaded not guilty. Neither attended Causey's plea hearing, but their attorneys did.

"They broke an innocent man," Daniel Petrocelli, Skilling's lead trial lawyer, said Wednesday, noting the defense teams would have to regroup in light of Causey's defection. "We have been preparing to go to trial and he was poised to be a very key part of the defense. He is one of the most honest, decent men you could ever get to know."

Michael Ramsey, Lay's lead lawyer, said Lay sympathized with Causey.

"His heart goes out to Mr. Causey. Ken has been under the same stress that Causey has been under and can understand and sympathize with a man with a family who is broke, making peace with the government," Ramsey said.

Petrocelli told Lake his client and Lay needed at least a two-week delay of the trial because Causey's plea has "wreaked some havoc" on their efforts to prepare for trial.

Lake approved the postponement after Sean Berkowitz, head of the Justice Department's Enron Task Force, said the government did not oppose it. Berkowitz said the Causey deal should streamline what had been expected to be a four- to six-month trial.

Causey, 45, could be more damaging to Lay and Skilling than Fastow. Unlike his former peer, Causey didn't skim millions of dollars for himself from shady deals.

Also, Lay has repeatedly pointed to Fastow as the crook who abused his trust, highlighting the former finance chief's admitted skullduggery.