Focus on economy, Wen tells HK
By Xing Zhigang (China Daily)
Updated: 2005-12-29 06:43
Premier Wen Jiabao yesterday called on Hong Kong to focus on economic growth and people's livelihoods while gradually developing democracy in the special administrative region (SAR).
He praised Hong Kong Chief Executive Donald Tsang for his substantial and pragmatic efforts to promote the city's prosperity and stability over the past half year.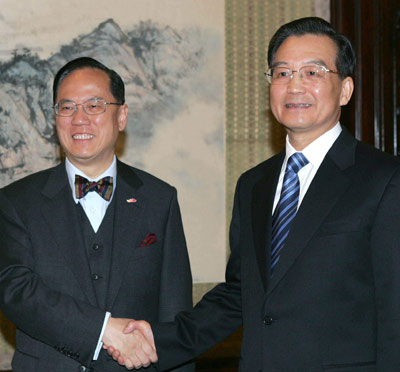 Premier Wen Jiabao (R) meets with Hong Kong Chief Executive Donald Tsang in Beijing Wednesday December 28, 2005. [Xinhua]
Hong Kong's overall situation is good, featuring sustained economic growth and social stability, but some deep-rooted problems are yet to be resolved, said Wen.
"I hope the Hong Kong SAR government and people in all sectors can make concerted efforts and focus on developing the economy, improving people's livelihoods and maintaining harmony in society," he said.
The premier held a 50-minute meeting with Tsang, who arrived in Beijing on Tuesday for his first duty visit since taking office in June.
Wen said Beijing's goodwill towards Hong Kong has not wavered and "will continue to wholeheartedly support the Hong Kong government's administration in accordance with law."
"We will continue to do whatever is good for Hong Kong's prosperity and stability, and good for improving people's livelihoods," Wen said. "This policy will not change."