Europe launches its rival to GPS

Updated: 2005-12-29 07:01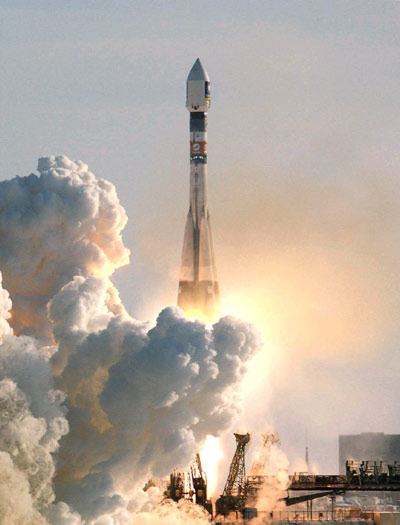 Russian rocket carrying a satellite of the Galileo network blasts off into the sky at Baikonur cosmodrome in Kazakhstan December 28, 2005. The rocket carried the first of what European states hope will be a network of satellites that will create a global navigation system. [Xinhua]
Europe Wednesday took a major step forward in launching competition to the Global Positioning System (GPS) of the United States.
The first satellite in the European Union's Galileo satellite navigation programme was launched from Kazakhstan a move widely seen as an answer to the dominant GPS controlled by the US military.
The satellite, named "Giove A," took off from the Baikonur Cosmodrome in Kazakhstan aboard a Soyuz rocket on schedule at 11:19 am local time (1:19 pm, Beijing time).
After the launch amid clear skies, ground control teams were waiting to establish communication with the satellite.
Journalists monitored the liftoff through a link-up at the headquarters of the European Space Agency, or ESA, in Paris.
The 3.4 billion euro (US$4 billion) Galileo project in which China has a stake will eventually use about 30 satellites and end Europe's reliance on the GPS system.
Last year, US President George W. Bush ordered plans for temporarily disabling GPS satellites during national crises to prevent terrorists from using the navigational technology.
Galileo is under civilian control. The European Space Agency says it will guarantee operation at all times, except in case of "the direst emergency."
"Galileo is made in Europe by Europeans," ESA spokesman Franco Bonacina said. For now, "If the Americans want to scramble GPS, they can do it whenever they want."
The satellite launch was originally scheduled for December 26 but was delayed because of a technical problem in the ground station network.
In orbit, Giove A will test atomic clocks and navigation signals, secure Galileo's frequencies in space and allow scientists to monitor how radiation affects the craft.
A second satellite named "Giove B" "Galileo In-Orbit Validation Element" will be placed in orbit in the coming spring.