Spontaneity sparked some Golf news in '05
(AP)
Updated: 2005-12-28 09:10
Some of the biggest news in golf came from spontaneous moments.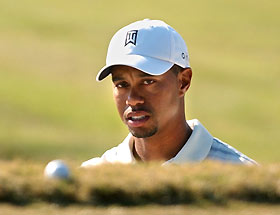 Jack Nicklaus was on his way home from a design project in Spain when he stopped in London for a brief chat with the media. He was asked about the British Open at St. Andrews, and Nicklaus said it would be his final major championship. And this time, he meant it.
PGA Tour commissioner Tim Finchem was walking to the clubhouse during the finals of the Match Play Championship when he was asked an innocuous question about the future at La Costa Resort, which always seems to be under water. Out of the blue, he tipped his hand about massive changes in store for golf.
"We're looking at a lot of different things in the schedule," he said. "It's time to take a look at a number of parts of the schedule to see if we can make it more compelling."
Golf is always full of surprises, especially outside the ropes. Here are some other moments that went beyond birdies and bogeys, green jackets and pink skirts:
___
It is not unusual for players to help each other with tips, whether on the range or during a practice round.
Michael Campbell was playing with Vijay Singh at Pinehurst No. 2 early in the week of the U.S. Open when they got to the 15th hole. Campbell sought the advice of a three-time major champion on how to play the bunker shot.
"He told me to get your hands ahead of the ball and hit a floaty, running shot," Campbell said. "It pops out and high and floats, so there's no check spin."
On the last day of the tournament, Campbell had a two-shot lead when he hit into the bunker on No. 15. Using the tip from Singh, he blasted out to 6 feet to save par, the pivotal shot in his first major title.
Campbell did not see Singh again until they were at St. Andrews for the British Open. As they passed each other on the range, Campbell smiled and said, "Hey, thanks for the tip."