US allies reducing troop levels in Iraq
(AP)
Updated: 2005-12-28 09:09
The U.S. coalition in Iraq saw its size dwindle Tuesday as Ukraine and Bulgaria said all their troops had left the country. Poland said it would remain but reduce its number of troops by 600 next year.
The Polish government's decision, which is expected to be approved by President Lech Kaczynski, was a boost for US President Bush, who has faced withering criticism at home and abroad over his handling of the Iraq war and the growing insurgency there.
Polish Prime Minister Kazimierz Marcinkiewicz said keeping troops in Iraq longer would support "the growing democratization of life" after the country's constitutional referendum and parliamentary elections.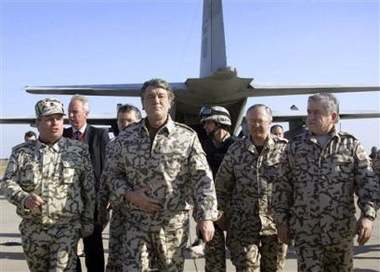 Ukrainian President Viktor Yushchenko, second left, visits a military base where Ukrainian troops station near Kut, Iraq, Monday, Dec. 26, 2005. [AP]

"We would like to gradually withdraw Polish troops from Iraq, not in an abrupt way, but gradually," he told reporters in Warsaw. "Stabilization is taking place. The high turnout in the October referendum and a still higher turnout in the elections Dec. 15 ¡ª all this suggests that within two or three months there will be a government of national unity in place created by all the political forces in Iraq."

Marcinkiewicz conceded it was "a very difficult decision." The deployment, which has cost the lives of 17 Polish soldiers, is unpopular with the public.

The State Department lauded Poland's decision.

"We are pleased that the government of Poland has announced plans to keep troops in Iraq until the end of 2006," said Nancy Beck, a U.S. State Department spokeswoman. "Poland has played a vital role in promoting democracy and security in Iraq, and today's announcement is yet another sign of support for the Iraqi people's quest for freedom."

White House spokesman Trent Duffy said: "As we've said all along ¡ª a country's decision on whether, or what level to support the mission in Iraq, either with troops or with money, or with other resources, is the country's decision to make on its own, and we respect those decisions."

Kaczynski, who took office last week, has until the end of the month to decide. As the armed forces' commander in chief, the president approves overseas military deployments.

His approval, however, was considered largely a formality because of his closeness to Marcinkiewicz' government. Kaczynski is a leading member of the prime minister's conservative party, Law and Justice, while the party's chairman is his twin brother, Jaroslaw Kaczynski.

Ukraine and Bulgaria, which had troops serving in Iraq under Polish command, both announced Tuesday that they had completed the withdrawal of their forces from Iraq.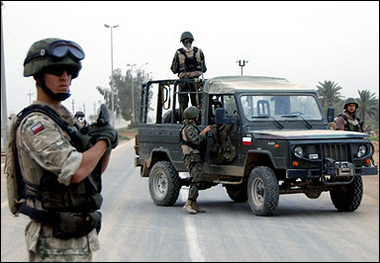 This picture released by the Multi-National Force-Iraq in September 2004 shows Polish soldiers patrol the city of Hilla in Iraq.[AFP/file]

Poland's own troop levels would be cut to 900 from about 1,500 in March, said the deputy defense minister, Gen. Stanislaw Koziej. The soldiers will focus on advising and training Iraqi security forces, he added.

Marcinkiewicz said the decision followed appeals from U.S. leaders and the U.N. Security Council's extension last summer of its mission in Iraq.

Ukraine's defense ministry said Tuesday that its last troops had left Iraq, fulfilling a long-planned withdrawal pledged by President Viktor Yushchenko.

A column of eight armored personnel carriers and 44 soldiers had departed the country and arrived in Kuwait, the statement said. Ukraine had kept 867 soldiers in Iraq after partial pullouts earlier this year. By Friday, all are due back in Ukraine, where the deployment has been unpopular.

About 50 Ukrainian military instructors will stay on to train Iraqi forces.

Ukraine opposed the invasion of Iraq but later contributed 1,650 troops to the U.S.-led coalition, becoming one of the largest non- NATO participants. Eighteen Ukrainian soldiers have been killed and another 32 wounded.

In Bulgaria, Defense Minister Veselin Bliznakov said Tuesday that his country had completed its own military pullout. Bulgaria began withdrawing its troops from the city of Diwaniya shortly after Iraq's Dec. 15 parliamentary elections, transferring its military responsibilities to Iraqi forces.

In May, Bulgaria's parliament had voted to cut the number of troops in Iraq from 460 to 400 and to continue their deployment through the end of 2005.

Bliznakov has said that Bulgaria will "most likely" continue its military involvement in Iraq next year by contributing a 120-strong non-combat unit tasked with guarding the Ashraf refugee camp.