Girl survives 4-day ordeal in dirty ditch
By Huang Zhiling (China Daily)
Updated: 2005-12-28 06:12
LUZHOU, Sichuan: A nine-year-old girl has been rescued after becoming trapped in a ditch for four nights without food and water.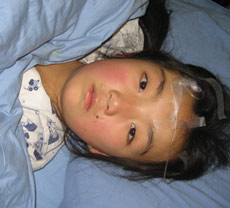 Chen Wenjie recovers in hospital after being saved from a deep ditch.
Chen Wenjie was almost in a coma when she was pulled to safety.
A security officer guarding warehouses nearby was alerted to her plight by a dog's continuous barking and found her in a seven-metre ditch.
She was taken to hospital in the southern Sichuan city, which is known nationwide for its liquor production, and is believed to have suffered damage to her heart and liver.
Her mother said she should be fit to return home on Wednesday.
After finishing her morning classes on December 20, Chen, a fourth grader in a local primary school in Lantian Town in Luzhou, had lunch at home. As her father was preoccupied with work, he did not send her to school in the afternoon.
At around 4 pm, her teacher informed the family that she had not been in classes.
"We looked for her for three days and almost gave up hope of finding her when somebody in a warehouse found her," said her mother Luo Zehui, who does odd jobs in the town.
When she left home after lunch, Chen, who has a record of skipping classes, tried to do so again. On her way to find a place to play, she tried to cross a ditch outside the wall of a warehouse.
"I accidentally slipped into the ditch from a slope and lost consciousness," Chen recalled in her ward in the Luzhou Municipal People's Hospital.
When she regained consciousness, Chen tried in vain to stand up but both legs were trapped in thick mud. She cried for help, but nobody passed the ditch.
"I was both cold and hungry. I thought of my father and mother and wanted to eat. It rained at night. I was shivering, regretting evading classes. I thought that I might die," she said.
A dog kept barking in the courtyard surrounding the warehouses in the days after Chen fell into the ditch. At about 5 am on Saturday, a security guard decided to carry out an extensive search.
After patrolling the courtyard, he heard somebody outside the wall of the warehouse crying for help in a weak voice. He approached the ditch, found Chen and called the police.
A policeman went into the ditch, which was filled with mud about 50 centimetres deep. After about 30 minutes, he managed to drag Chen to safety and she was sent to the Luzhou Municipal People's Hospital.
"It is a miracle that Chen Wenjie survived four nights in hunger and cold, for there was not even grass in the ditch," said her doctor Sun Xiaohong, chief of the Children's Section of the Luzhou Municipal People's Hospital.
"I can walk in the ward now. After recovering, I will study hard, be a good child of my father and mother, and never skip classes," Chen said timidly.