China hikes interest rate on US dollar deposits
By Chuan Yu (China Daily)
Updated: 2005-12-28 06:32
China raised interest rates on US dollar and Hong Kong dollar deposits yesterday, a move that analysts say is a response to higher interest rates on the international market.
The People's Bank of China, the central bank, raised the upper limit for rates on one-year US dollar deposits to 3 per cent from 2.5 per cent. The ceiling on one-year Hong Kong dollar deposits was increase by 25 basis points to 2.625 per cent.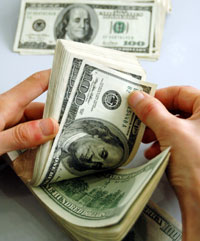 A clerk counts US dollar notes deposited by a customer at an office of the China Communications Bank in Haian, east China's Jiangsu Province December 28, 2005. [newsphoto]

The adjustments become effective Wednesday.

This is the fifth time the Chinese central bank has raised interest rates on key foreign currency deposits this year, following a similar but smoother upward curve of rates in the United States. The dollar rate ceiling was a much lower 0.875 per cent at the beginning of the year.

"Looking at the whole year, the policy intention is quite clear," said Zhang Xuechun, a Beijing-based economist with the Asian Development Bank.

Although China's monetary authorities do not give details about every policy move, Zhang said yesterday's hike was an effort to keep pace with the rate-hiking wave by the Federal Reserve in the United States. It would keep interest differentials from widening too much.

The Federal Reserve raised its target for its federal funds rate by 25 basis points earlier this month to 4.25 per cent, the 13th rate hike since June last year.

Zhang said another reason for the Chinese move was to encourage local residents to deposit more in foreign currencies instead of in the Chinese currency, the renminbi, to help reduce the upward pressure on the local currency.

"After the exchange rate reform, interest rate policy must be more responsive to smoothen exchange rate fluctuations," Zhang said.

China announced a long-awaited exchange rate reform in July 21, allowing the renminbi to appreciate by 2 per cent and linking the currency to a basket of foreign currencies instead of the US dollar alone.

Expectations for further renminbi appreciation remain strong, as major trading partners keep pressing China for a stronger renminbi, which they believe is undervalued.

The renminbi has been on an upward trend against the dollar since the reform, although movements in both directions are frequently recorded.

(China Daily 12/28/2005 page10)