Koizumi wants friendly China-Japan ties
(Reuters/China Daily)
Updated: 2005-12-28 06:12
Japanese Prime Minister Junichiro Koizumi said on Wednesday he would strive to develop friendly ties with China in 2006, after a year in which relations with that country hit their lowest in decades.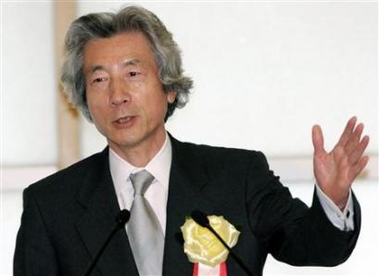 Japanese Prime Minister Junichiro Koizumi delivers a speech in Tokyo December 22, 2005. [Reuters]
Long-chilly relations between Tokyo and Beijing have become fraught this year through disputes over issues mostly relating to Japan's invasion and occupation of parts of China in the early 20th century.
Bilateral ties hit their worst level in decades in April, when thousands of Chinese took to the streets in sometimes violent anti-Japan protests.
Ties with South Korea have also soured for similar reasons and Koizumi said he would like to mend that fence as well.
"For Japan, China and South Korea are important neighbors and friendly countries," Koizumi told reporters, adding that the development of China and South Korea opens up opportunities for Japan.
"From that standpoint, I don't think there is any change on the point of trying to develop friendly relations even if there are various differences in our respective positions."
Japan needs to take steps so China and South Korea would understand such thinking, Koizumi said, adding that he hoped those two countries would do the same.