Hu pledges support for Hong Kong democracy
By Xing Zhigang (China Daily/Xinhua)
Updated: 2005-12-28 06:08
President Hu Jintao yesterday pledged consistent support for Hong Kong's democratic development "in a step-by-step, substantial and orderly way" one week after lawmakers in the special administrative region (SAR) blocked a government-endorsed constitutional reform package.
In his meeting with Hong Kong SAR Chief Executive Donald Tsang, the president called for an extensive consensus among local people on advancing democracy.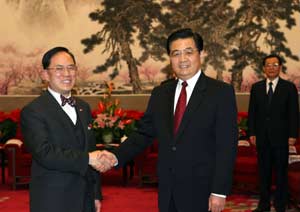 President Hu Jintao shakes hands with Donald Tsang, chief executive of the Hong Kong Special Administrative Region, during their meeting in Beijing, Dec. 27, 2005. Donald Tsang arrived here Tuesday for a duty visit. [Xinhua]
Hu stressed that the central government has constantly supported Hong Kong's development of democracy in accordance with the Basic Law, the territory's "mini-constitution," and ground realities.
He added that implementing the principles of "one country, two systems," "Hong Kong people governing Hong Kong," and a "high degree of autonomy" aims to make Hong Kong compatriots masters of their own destiny who can exercise their democratic rights.
"But as in any country or region, where the development of democracy is a gradual and historical process, Hong Kong's democracy has to be promoted in a step-by-step, substantial and orderly way," he said.
Tsang arrived yesterday morning for his first duty visit to Beijing since taking over the top job from Tung Chee-hwa in June.
During talks at Zhongnanhai, the central government headquarters, Tsang briefed Hu on how his administration's constitutional reform package failed to muster enough votes at the Legislative Council (LegCo).
Tsang had championed the reform bill for the 2007 chief executive and the 2008 LegCo elections, which included a motion to expand the 800-member committee that elects the chief executive to 1,600. A second motion proposed adding 10 seats to the 60-seat legislature.
But opposition lawmakers voted down the package last Tuesday, citing the absence of a timetable for universal suffrage in Hong Kong.
Hu expressed his support for the HKSAR government's election reform package, saying it had won wide support from the public and is "a plan that further promotes democracy."
The package is in conformity with the Basic Law and relevant interpretations and resolutions of the Standing Committee of the National People's Congress, China's top legislature, he said.