Ex-minister sentenced to life term for bribery
By Liu Li (China Daily)
Updated: 2005-12-28 06:08
Tian Fengshan, former minister of land and resources, was sentenced to life imprisonment yesterday for accepting bribes worth 4.36 million yuan (US$538,000).
All his personal properties will be confiscated, according to the verdict of the Beijing No 2 Intermediate People's Court, Xinhua News Agency reported.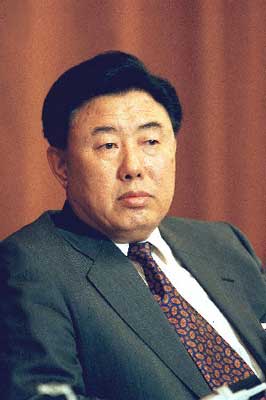 Tian Fengshan

From 1996 to 2003, Tian took advantage of his posts as governor of Heilongjiang Province and central government minister to unduly reward officials who bribed him, the court said.

All the bribes accepted by Tian have been recovered.

Tian, 65, was guilty of accepting large amounts of bribes which could have got him the death sentence but the court was lenient because he confessed most of his crimes, repented and returned the bribes, sources said.

Xinhua said Tian was accused of taking money on 17 occasions but didn't say where that money came from or what Tian was accused of doing in exchange.

Tian took office as governor of Northeast China's Heilongjiang Province in 1995 and was appointed minister of land and resources in 2000.

He was relieved of his last position in 2003, and arrested and expelled from the Communist Party of China last year.

Tian was one of a group of senior corrupt officials who have been rooted out in Heilongjiang.

Han Guizhi, former chairwoman of the Heilongjiang Provincial Committee of the Chinese People's Political Consultative Conference, was earlier this month sentenced to death with a two-year reprieve for accepting 7.02 million yuan (US$875,000) in bribes.

In July, Ma De, former Party secretary of Suihua in Heilongjiang, was also sentenced to death with a two-year reprieve for taking bribes worth 6 million yuan (US$740,000).

Tian's former deputy in Heilongjiang Zhu Shengwen committed suicide in prison in 2003.