City dwellers expect pay rises, new jobs in 2006
By Fu Jing (China Daily)
Updated: 2005-12-28 06:08
Bosses have been put on notice: Nearly half of urban Chinese employees expect promotion and pay rises or to change jobs in the new year, according to a recent survey.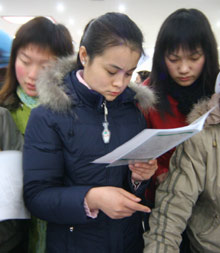 Job-seekers look at employment information at a job market in Xingtai, North China's Hebei Province December 26, 2005. [newsphoto]

Of respondents between the ages of 18 and 60 in eight major Chinese cities, 46.1 per cent said they anticipate either a pay rise or finding another job.

The findings were released by Beijing-based polling agency Horizon Group after quizzing more than 4,000 households nationwide.

Two in three urbanites, or 67.4 per cent, anticipate an income rise next year compared with 70.2 per cent for township residents and 75.6 per cent for rural dwellers.

And two in five city residents, or 39.9 per cent, plan to move to a job which is more satisfying.

But it's not just work on their minds: One in four (25.1 per cent) plan to travel for leisure, thanks to rising disposable incomes.

One in 10 of the respondents, or their children, expect to marry next year many have held back this year, the Year of the Rooster and people expect a wedding and baby boom next year the Year of the Dog, which is considered auspicious.

If marriage is definitely on their minds, buying a house is also a priority: 18.1 per cent say they plan a move in the property market.

Industry insiders say that many urbanites have adopted a wait-and-see attitude towards buying a home this year, hoping that cooling-down measures by the central government would bring down prices in the overheated property sector.