Spending on HIV/AIDS prevention set to double
(China Daily)
Updated: 2005-12-28 06:08
China will spend an average of more than 1.5 billion yuan (US$185 million) annually in the next two years for prevention and control of HIV/AIDS almost double the 800 million yuan (US$98.7 million) earmarked for this year, Xinhua reported yesterday.
The government spent an average of 600 million (US$74 million) each year in 2003 and 2004, and only about 100 million yuan (US$12.3 million) in 2001, according to a 1998-2004 report on Chinese youth.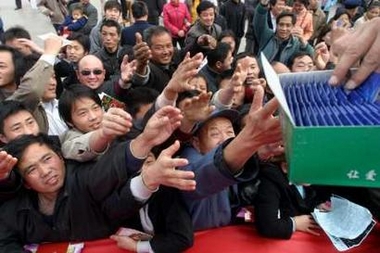 Chinese scramble for free condoms in Xiangfan, Hubei province, on World AIDS Day December 1,2005. [Reuters]
The report was published by the China Youth and Children Research Centre and the Department of International Communications of the Central Committee of the China Communist Youth League.
Experts estimate that China had 840,000 HIV-infected people by the end of last year, including 80,000 AIDS patients.
Of the HIV positive, 82 per cent were between the ages of 20 and 39, and 7.4 per cent were below 19, said the report.
The government has pledged to keep the number of HIV-positive people below 1.5 million by 2010.
In addition to drafting a raft of medium- and long-term plans for HIV/AIDS prevention and control, China has stepped up efforts to spread awareness of drug abuse, puberty, sex, free blood donations, narcotics control and sexually transmitted diseases.
Of the 1.07 million registered drug addicts on the mainland by the end of last year, the number of young addicts was 755,000.
The report said the number of those taking new drugs such as "ice" is expanding.
(China Daily 12/28/2005 page1)