China earmarks $476m for AIDS control
(Xinhua)
Updated: 2005-12-27 21:16
China has planned to spend 3.86 billion yuan (about 476 million U.S. dollars) on AID/HIV prevention and control efforts in three years beginning from this year.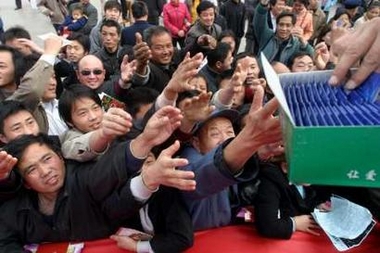 Chinese receive free condoms in Xiangfan, Hubei province, on World AIDS Day December 1,2005. [Reuters]
The central government has attached great importance to HIV/AIDS prevention and control work, with the financial support in this regard keeping rising, according to a report on development of Chinese youth for 1998-2004 period.
The report was published by China Youth and Children Research Center and the Department of International Communications with the Central Committee of the China Communist Youth League.
According to the report, the state coffers shed 1.2 billion yuan on HIV/AIDS prevention and control between 2003 and 2004, comparing 100 million yuan in 2001.
In addition to drafting a range of median and long-term plans concerning HIV/AIDS prevention and control, China has also constructed 127 demonstration zones across the country with the mission of preventing and controlling HIV/AIDS in a comprehensive way.
In the meantime, relevant departments have also stepped up efforts to publicize knowledge on puberty, sex, blood donation gratis, narcotics control, HIV/AIDS and sexually transmitted diseases (STD).
Special lectures on HIV/AIDS prevention and control, prohibition of narcotics and environmental protection were given at all primary and middle schools across the country starting from the spring semester in 2003.
Courses featuring prevention and control of HIV/AIDS are offered at all Chinese colleges of higher learning and middle schools by this year.
China had about 840,000 HIV carriers by late 2004. Out of the reported HIV carriers, 82 percent were people aged 20 to 39, and 7.4 percent were teenagers below the age of 19, said the report.