Mavericks tie Spurs for West's best record
(Agencies)
Updated: 2005-12-27 14:38
DALLAS - Devin Harris scored 20 points, including a 20-footer that he intended to be a pass, and Jerry Stackhouse proved his injured knee is doing fine with an active third quarter that featured a tremendous dunk, leading the Dallas Mavericks to a highlight-filled 102-80 victory over the Indiana Pacers on Monday night.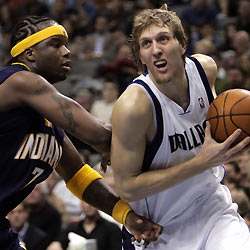 Mavericks forward Dirk Nowitzki (R) drives against Indiana Pacers center Jermaine O'Neal during second half action in Dallas, Texas December 26, 2005. The Mavericks defeated the Pacers 102-80. [Reuters]

Dirk Nowitzki added 23 points to help the Mavs tie San Antonio for the best record in the Western Conference at 21-7.

The Pacers lost their second straight and fell to 5-3 since making Ron Artest inactive. They can forget about this one quickly as they finish a three-game road trip in San Antonio on Tuesday night.

They'll probably want to forget it, too.

After rallying from 22 down to tie Cleveland in their previous game, the Pacers went up 2-0 and were outworked the rest of the game en route to their second-biggest loss of the season.

Dallas grabbed 14 of the game's first 18 rebounds and took 11 of the first 12 free throws. The Mavs snatched seven of the first eight steals, while the Pacers had 11 first-half turnovers, four of them traveling.

The Mavericks finished with a 49-30 rebounding edge, despite a season-low two from Nowitzki. Erick Dampier tied his season high with 14 boards and Josh Howard had 10, along with 12 points.

Jermaine O'Neal led Indiana with 15 points. Stephen Jackson and Jamaal Tinsley scored 12 and Austin Croshere 11. The game was so lopsided that no starter played more than O'Neal's 35 minutes, with the 11th and 12th men each playing nearly seven minutes.

Harris broke open the game in the first quarter. It was tied at 16 when he went in, then he scored 12 points in a 15-7 run. He made 6-of-7 shots, the last one coming by accident when he tried throwing an alley-oop pass to Stackhouse. He sheepishly held up three fingers in hopes of it being ruled a 3-pointer and did his best to hide a grin, slightly shaking his head as if saying he couldn't believe what had happened.

Stackhouse was playing only his second game of the season and first at home. He got a nice ovation when he entered in the first quarter, then got rolling late in the third.

He scored eight of Dallas' 10 points, starting with a jumper then driving through the defense and leaping over two Pacers for a dunk that got most in the building on their feet. He was headed to the rim again the next time down the court and was taken down hard by Fred Jones. He made a steal on the other end soon after, and Harris closed the period with a buzzer-beat that stretched the Mavs' lead to 19.