Law to curb gov't power over house relocation
By Liu Li (China Daily)
Updated: 2005-12-27 06:08
Government power over house relocation and resident resettlement will be restricted in the country's first administrative mandatory law.
The Standing Committee of the National People's Congress (NPC), the country's top legislature, discussed drafts of the law for the first time yesterday.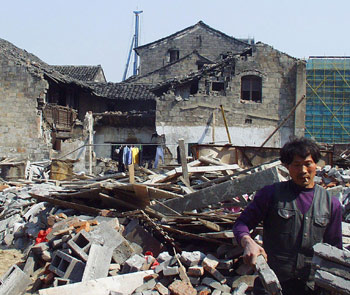 A man works at a site of a demolished house. [newsphoto/file]
Local governments have been quite active in bulldozing private residences to pave the way for urban construction, resulting in widespread disputes across the country.
Because of the current legal situation, some government bodies have been lax in adopting proper procedures and have infringed upon the legal rights of residents, sources said.
Given this, the draft prescribed that governmental staff should tell parties concerned all their rights when adopting mandatory measures, and advanced warning will be required.
Governments are required not to misuse their powers and infringe upon citizens' and organizations' legal rights, the draft said.
Meanwhile, citizens and organizations will be granted rights to ask for re-examination, put forward litigation and seek compensation.
Ying Songnian, member of Committee of Internal and Judicial Affairs of NPC and director of Law Department of National School of Administration told China Daily that government power should be further restricted.
"I believe the law should have more specified prescriptions over governments' power in house relocation and resident resettlement," he said.
Ying advised that the law entrusts courts to approve administrative mandatory sanctions. "Governmental power will be better supervised if courts have the final say over administrative mandatory sanctions."
"Only a just procedure can guarantee a just administrative act and protect the legal rights of citizens," he said.
Any regulations that run against the new law will be withdrawn, according to the draft.