Israeli PM orders stop to Gaza rocket fire
(AP)
Updated: 2005-12-26 09:10
Israeli Prime Minister Ariel Sharon, returning to work Sunday a week after suffering a mild stroke, ordered the military to stop Palestinians from firing rockets at Israel from Gaza, officials said.
Sharon's order, which included a no-go zone in northern Gaza, came after a weekly Cabinet meeting and high-level security consultations, the officials said, speaking on condition of anonymity because they were not authorized to disclose details.
Since Israel pulled out of Gaza and removed its settlements this summer, militants have been moving closer to the Gaza-Israel fence to launch homemade rockets, bringing more Israeli towns and the city of Ashkelon into range.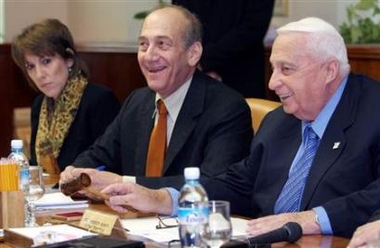 Israeli Prime Minister Ariel Sharon (R), Vice-Premier and Finance Minister Ehud Olmert (C) and Education Minister Limor Livnat (L) attend the weekly cabinet meeting in Jerusalem December 25, 2005.[Reuters]

Two rockets have exploded south of Ashkelon in an industrial area over the last week, not far from an electric power station and other sensitive installations.

The centerpiece of the plan approved Sunday, officials said, is the declaration of a no-go zone in parts of northern Gaza where intruders can be shot.

Israel has not ruled out a ground operation in Gaza, although it has not sent in troops since it completed its pullout in September, and would be hesitant to re-enter the territory.

Instead, security officials said, Israel can track movement in the area from the air. Israeli helicopters and pilotless drone aircraft often are seen in the Gaza skies. Recent stormy weather has held up implementation of the plan, Israeli media reported.

At the Sunday Cabinet meeting, Defense Minister Shaul Mofaz said Islamic Jihad was behind most of the rocket fire. A statement from the Cabinet office said Mofaz pledged to continue targeting militant leaders in airstrikes.

Israel has killed eight militants in four airstrikes in Gaza since resuming the killings after a Dec. 5 suicide bombing that killed five Israelis in the seaside city of Netanya.

Sharon spent most of last week resting after being rushed to the hospital. Doctors said he suffered a mild stroke that has not caused any permanent damage. Sharon's blood pressure and cholesterol levels are normal despite his weight, the doctors said.

The stroke nonetheless sparked calls for the prime minister to release his health records and set off media speculation about his weight, with estimates ranging from 258 to 313 pounds. Sharon is 5 foot 7 inches tall. The newspaper Yediot Ahronot reported Sunday that he has lost about two pounds since the stroke.

Sharon gave ministers a tongue-in-cheek warning Sunday about the dangers of fried foods eaten during the eight-day Jewish holiday of Hanukkah, beginning at sunset. After last week's stroke, doctors urged Sharon to go on a diet.

"I hope you will all eat doughnuts and potato pancakes," Sharon said, smiling and provoking laughter. "You have permission to eat them, but I recommend that you don't overdo it."

The stroke has turned Sharon's health into an issue in his push to win a third term as leader of a new centrist party in March 28 elections.

Sharon's doctors have scheduled a briefing Monday to disclose details of his medical records.