NPC moves to abolish agricultural tax
By Liu Li (China Daily)
Updated: 2005-12-26 05:31
China's top legislature plans to abolish agricultural tax, which will help unify the tax system between rural and urban areas.
The Standing Committee of the National People's Congress (NPC) discussed a motion over the issue Sunday and is expected to vote on it on Thursday.
Ahead of the legislative move, the State Council has decided to exempt the whole country from agricultural tax next year.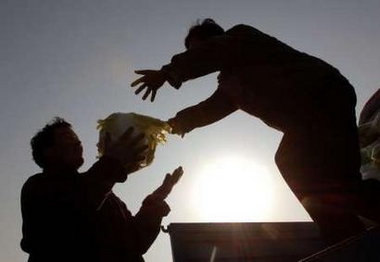 Two men unload cabbage from a cart in a farmers' market during sunrise in Hefei, east China's Anhui province December 12, 2005. [newsphoto]
According to Chinese laws, only the NPC and its Standing Committee are granted the power to establish or abolish a category of taxes.
"Abolition of agricultural tax does not necessarily mean that farmers will pay no tax. Rural residents will gradually be moved to other tax categories similar to their urban counterparts," Yang Jingyu, chairman of NPC Law Committee said yesterday at a panel discussion.
Meanwhile, Liu Jibin, vice-chairman of NPC Financial and Economic Committee pointed out that to root out agricultural tax would increase incomes of farmers and ease their financial burdens.
"Currently, the income gap between urban and rural residents is widening," he said in a report at the 19th session of the Standing Committee of the 10th NPC on Saturday.
It is expected that the exemption of agricultural tax will free farmers from paying 50 billion yuan (US$6 billion) per year.
Although China still imposes agricultural tax, 28 provinces, municipalities and autonomous regions have exempted their farmers from the tax. About 800 million farmers among the total of 900 million are not required to pay agricultural tax.
"China is economically strong enough to abolish agricultural tax," Liu said.
Statistics show that in 1950, the income from agricultural tax made up 39 per cent of the country's total financial revenue. But this proportion dropped to 0.05 per cent this year.
As local revenues will decrease with the abolition of agricultural tax, major grain producing areas and central and western regions will receive assistance from the central government, according to Liu.
The central government supported local governments in these regions by providing 21.7 billion yuan (US$2.7 billion) in 2004. This figure reached 35.7 billion yuan (US$4.4 billion) this year.
Feng Shuping, vice-director of the Commission for Budget Affairs of the NPC Standing Committee said that since the founding of the People's Republic of China in 1949, the Chinese Government has always upheld the principle of increasing grain output, but reducing taxes.
In 1949, a farmer had to pay a grain tax of as much as 28 kilograms per capita per year, while this figure was reduced to 13 kilograms in 2000, although the annual grain output increased remarkably during this time.
"I am in full support of the abolition of agricultural tax," Wang Meixiang, an NPC Standing Committee member said yesterday in a panel discussion.
Wang expressed his wish for economic support from the central government for rural education.
According to the draft, agricultural tax will be abolished on the first day of next year.
(China Daily 12/26/2005 page2)