Bus plunges into river, 27 presumed dead
By Yuan Wu (China Daily)
Updated: 2005-12-26 05:31
A bus carrying 37 passengers including the driver ran off the road into the freezing cold Yellow River in North China's Inner Mongolia Autonomous Region on Saturday, leaving 27 passengers missing and presumed dead while 10 have so far been rescued, Xinhua News Agency reported.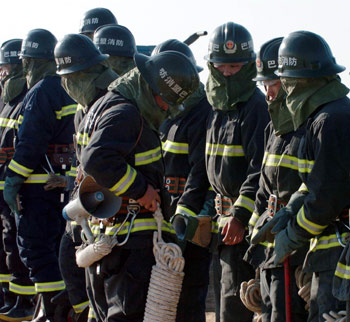 Rescuers prepare to search for survivors after a bus carrying 37 passengers pludged into Yellow River in North China's Inner Mongolia Autonomous Region Saturday. [Xinhua]
The bus slipped into the icy waters following the collapse of the road next to the river, as it passed Hanggin Banner in Inner Mongolia Autonomous Region at about 4:00 pm on Saturday. "The chances of survival for the 27 missing passengers are slim to none," said Bao Shengrong, who is the secretary of the Party committee of the banner, and in charge of rescue missions.
A rescuer said that the chances of survival were so low because the six-metre depth water is freezing cold.
"There is a huge fissure on the ice making it difficult to reach the spot where the bus fell into the water, especially at night," Bao said.
Yesterday morning, more than 20 ambulances were waiting alongside the river for victims. And 20 firemen were involved with breaking the ice to ease the rescue effort. Six frogmen from Baotou were dispatched into the water to help retrieve victims.
It is said that the bus was licensed to carry only 26 passengers.
It is the second serious road accident to occur this month. On December 19, on the highway between Beijing and Shijiazhuang, a truck from the Northeast China's Liaoning Province crashed into a truck from Hebei Province causing one of the trucks to collide with a bus, killing 17 and injuring three.
(China Daily 12/26/2005 page2)