Japanese feelings toward China at record low
(Reuters)
Updated: 2005-12-25 14:01
The number of Japanese who have good feelings toward China has fallen to a record low, according to a government survey, in an apparent reflection of the icy diplomatic ties between the Asian neighbors.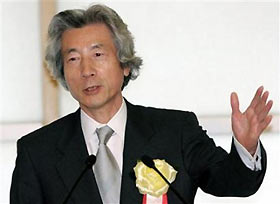 Japanese Prime Minister Junichiro Koizumi delivers a speech during the annual councillors meeting of the Japan Business Federation (Keidanren) in Tokyo, December 22, 2005. [Reuters]

In a Cabinet Office poll released this weekend, only 32.4 percent of respondents said they had friendly feelings toward China, down 5.2 points from last year's figure, also a record low.

The survey also showed that 71.2 percent of respondents believed that ties with China were not good, the highest since 1986 when the government started asking the question in the poll.

"Such a major drop in friendly feelings, or perhaps one can say a rise in feelings of dislike, is not good for both countries," former Japanese foreign minister Nobutaka Machimura told a television program on Sunday.

Relations with Beijing have soured after Prime Minister Junichiro Koizumi took office in 2001 and began his annual visits to a Tokyo shrine for the war dead which China, along with South Korea, see as a symbol of Japan's past militarism.

Despite repeated requests by Beijing and Seoul to stop the pilgrimages, Koizumi visited the Yasukuni Shrine in October, triggering a further freeze in diplomatic ties.

The shrine honors convicted war criminals along with 2.5 million war dead and the visits are regarded as an insult by Japan's neighbors. Many countries in the region suffered during Japan's wartime occupation and feel that Japan has not done enough to atone for its past.

China refused to hold a leaders' meeting with Japan at an Asian summit this month, and a visit by the South Korean president, planned also in December, has failed to happen.

While the poll was conducted prior to Koizumi's latest shrine visit, respondents were likely to have taken into account a series of anti-Japanese rallies in China in April, Japanese media said.

The survey also showed that the number of people who have positive feelings about South Korea fell for the first time in four years to 51.1 percent, with 50.9 percent saying ties with the country were not in a good condition, up 16 points.

In contrast to deteriorating sentiment toward its Asian neighbors, the poll showed that 73.2 percent of Japanese felt good about the United States, up 1.4 points, and 80.9 percent considered ties with Washington were good, up 4.2 points.

The poll was conducted in October by randomly picking 3,000 Japanese over 20, with 58.5 percent of them responding.