Egypt's opposition leader sentenced to five years in jail
(Xinhua)
Updated: 2005-12-24 20:05
Egyptian opposition leader Ayman Nour was convicted of forgery and sentenced to five years in prison by a Cairo court on Saturday, a source told Xinhua.
Nour has been on hunger strike for the past two weeks in protest against the trial, which he says is a politically motivated attempt to remove him from the political scene.
Nour was released on bail on March 12 after six weeks in prison over the alleged case of forging signatures to get his party Al Ghad party (Tomorrow) registered last year.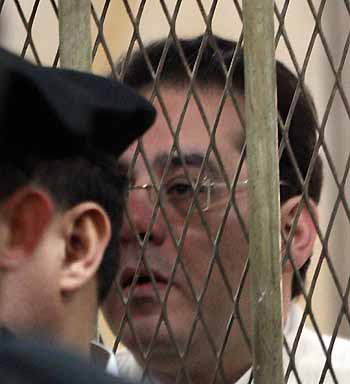 Opposition politician Ayman Nour looks from behind a Cairo court house cell December 24, 2005. An Egyptian court on Saturday sentenced Nour, a former presidential candidate, to five years in jail on forgery charges.[Reuters]

The 41-year-old lawyer won about 8 percent of the popular vote in the presidential elections held in September, following Egyptian President Hosni Mubarak who was re-elected by gaining 89 percent.

Nour lost his seat in parliament in November.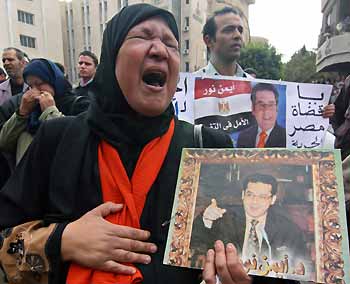 Opposition politician Ayman Nour supporters cry in despair outside a court in Cairo December 24, 2005.[Reuters]

Some of his codefendants confessed that they forged the documents at the request of Nour with a computer he personally bought for them.

Nour, whose party held seven seats in the former parliament, has proposed to scrap a 24-year emergency law in Egypt and draw a new constitution defining the framework of a parliamentary republic.

Nour was one of the 10 political and human rights activists who met with US Secretary of State Condoleezza Rice in Cairo on June 20.