Wang Daohan, 90, passes away in Shanghai
(Xinhua/AFP)
Updated: 2005-12-24 12:28
Wang Daohan, president of the mainland-based Association for Relations Across the Taiwan Straits, passed away in Shanghai at 7 a.m. (Beijing time) on Saturday.
Wang died of disease in the Shanghai Ruijin Hospital at the age of 90.
Wang, native of Jiashan, Anhui Province in east China, once served as secretary of the Shanghai Municipal Committee of the Communist Party of China (CPC), vice-mayor and mayor of Shanghai, and adviser to the Shanghai Municipal People's Government.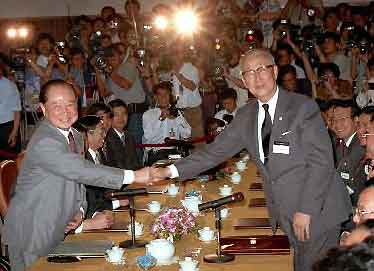 Wang Daohan (L) shakes hands with Koo Chen-fu on April 27, 1993. [Xinhua/file]

He was a member of the former CPC Central Advisory Commission, delegate to the 13th, 14th and 15th CPC National Congress, and deputy to the 5th and 6th National People's Congress, or the national legislature.

The Association for Relations Across Taiwan Straits was founded in December 1991, and Wang took the presidency. In April 1993, Wang and Koo Chen-fu, chairman of the Taiwan-based Strait Exchange Foundation (SEF), held in Singapore the first ever high-level, non-governmental talks across the Straits.

The talks were known as the Wang-Koo meeting.

In October 1998, they held the second talks in Shanghai and reached a consensus on four points involving dialog across the Straits on political issues.

Wang also served as professor of economics with many prestigious universities including Beijing University, Fudan University and Tongji University. Fond of reading, Wang had done considerable research into politics, economics and management and had wide interest in literature, history, music, arts and drama.