China and OPEC start energy dialogue
(AFP)
Updated: 2005-12-23 07:49
China and the Organization of Petroleum Exporting Countries ( OPEC) started an energy dialogue aimed at ensuring a steady supply for one of the fastest growing economies, officials said.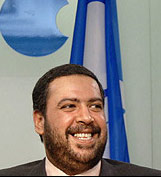 OPEC president Sheikh Ahmad Fahd al-Sabah, seen here in September 2005. [AFP]

OPEC president Sheikh Ahmad Fahd al-Sabah, who is also Kuwait's energy minister, met Chinese Vice Premier Zeng Peiyuan and Mai Kai, head of China's key economic planning body, the National Development and Reform Commission.

In a joint statement, Beijing and OPEC said they had established a future cooperation framework and exchanged views on energy issues -- "in particular, the security of supply and demand, in order to enhance market stability."

"China's economic growth requires secure, steady supplies of energy, while OPEC's crude oil reserves and production are expected to continue growing, ensuring that there will be enough oil to meet rising world demand for decades to come," the statement said.

OPEC -- which groups Saudi Arabia, Iran, Venezuela, Kuwait, the United Arab Emirates, Iraq, Nigeria, Libya, Indonesia, Algeria and Qatar -- now faces stronger competition than ever in China from non-OPEC suppliers.

Kazakhstan last week launched a new 806-million-dollar oil pipeline to China.

China has also been pressing Russia, its largest non-OPEC supplier, to work toward an early agreement on a oil pipeline from Siberian oil fields to China.

Russia delivered 5.8 million tons of crude by rail to China last year, and that amount is set to reach 8.0 million tons this year.