China becomes a net auto exporter
(AP)
Updated: 2005-12-23 07:13
China says it has become a net exporter of cars and trucks for the first time, with new Chinese competitors such as Geely and Chery starting to make their mark in the markets of Asia, Africa and the Middle East.

Exports jumped by 133.5 percent in the first 10 months of this year, giving China an export surplus of 7,000 vehicles, according to the Xinhua News Agency.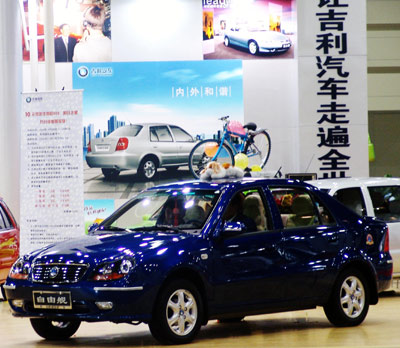 A Geely sedan is on display beside a banner that reads "Let Geely autos hit every corner of the world" in an auto show in Zhengzhou, Central China's Henan Province October 29, 2005. [newsphoto]
Beijing has been promoting the growth of its automakers in recent years as foreign suppliers expand in China, which is expected to become the world's biggest car market.
The Xinhua report Wednesday didn't give detailed figures for China's auto exports.
But Michael Dunne, president of Beijing-based consulting firm Automotive Resources Asia, said China's exports in 2005 would probably reach about 125,000 units.
Some 20 to 25 percent of that total is likely to be made up of vehicles made by Chery and Geely, two Chinese brands that sell abroad for less than $10,000, said Dunne.
"Chinese automobile manufacturers are facing an increasingly competitive market at home," he said. "They are high volume producers. To compete and survive, they need to export worldwide."
Dunne said the rest of China's exports were "bread box" vehicles ¡ª pickup truck lookalikes made by companies such as Chang An and Hafei.
He said these vehicles have $2,000 to $4,000 price tags at home, where sales are concentrated in relatively poor areas, away from big eastern cities.
"In places like Beijing and Shanghai, they are not considered very attractive," he said.
China's domestic auto sales now total about 5 million vehicles per year, with most foreign brands manufactured locally or assembled from imported parts.