Guangdong dam slows down cadmium slick
By Liang Qiwen (China Daily)
Updated: 2005-12-23 06:29
YINGDE, Guangdong: The cadmium slick on Guangdong's Beijiang River has been stopped by a dam at Yingde, ensuring water safety to downstream residents, according to Yingde municipal government.
Wang Zhensheng, a local government official, told China Daily that water had been stopped by the Baishiyao Dam, before assuring residents that "water in the lower stream is safe."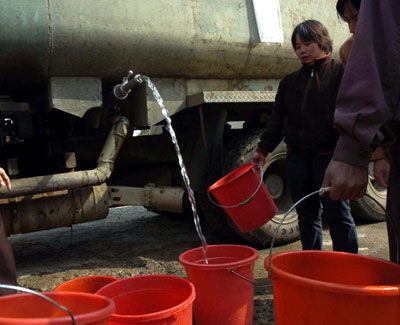 Local residents get water from a fire truck in Shaoguan, South China's Guangdong Province December 21, 2005. [Xinhua]
Wang said that the upstream Mengzhou Dam will discharge 390 million cubic metres of clean water to dilute the cadmium slick, and that Feilaixia Dam further downstream has also been shut to prevent the pollution spreading.
The local authorities will not reopen Baishiyao and Feilaixia Dams until the water returns to safe levels of toxicity, but the time has not been fixed.
Experts have been testing water once every two hours at the seven testing stations in Yingde.
Local government suspended water supply for several hours yesterday morning while an emergency pipe was constructed, but said that water supply has since returned to normal.
Although the polluted water is still far from the downstream cities of Guangzhou and Foshan, authorities in there have stepped up water testing
Xiao Yanbing, an official with the provincial environmental protection bureau of Guangdong told China Daily: "Hopefully the polluted water will not reach either Guangzhou or Foshan, thanks to the authorities' prompt response and effective measures."
The river became heavily polluted with cadmium discharged by Shaoguan Smelting Plant on December 16. Cadmium levels are ten times above the national standard.