Japan FM's 'China threat' remarks criticized
By Qin Jize (China Daily)
Updated: 2005-12-23 06:15
China yesterday criticized Japanese Foreign Minister Taro Aso for making "extremely irresponsible" remarks about the so-called China threat.
"As a foreign minister, to incite such groundless rhetoric about China is extremely irresponsible. What is the purpose?" asked Foreign Ministry spokesman Qin Gang at a regular press conference.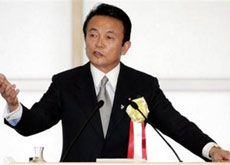 Japanese Foreign Minister Taro Aso delivers a speech at a meeting of Federation of Economic Organizations, the Keidanren, in Tokyo, Thursday, Dec. 22, 2005. [AP]

Aso said earlier in the day that China poses a "considerable threat" because of what he called its rising military spending and nuclear weapons.

He reportedly told a news conference in Tokyo that China's military build-up has become a concern, given its "two-digit growth and lack of transparency."

Aso, appointed to the post in late October, echoed Seiji Maehara, head of Japan's major opposition Democratic Party, who called China a "realistic threat" after a three-day recent visit to the country.

Qin said China is determined to seek peaceful development and "has contributed towards world's peace and stability, bringing great development opportunities to eastern Asian countries including Japan."

Aso's comments came as the Chinese Government released a white paper reiterating Beijing's commitment to peaceful development.

Qin said the document would help the international community better understand China's goal of peaceful development and its stance on global issues.

Relations between China and Japan have been badly strained of late, with Beijing angry over Japanese Prime Minister Junichiro Koizumi's repeated visits to Yasukuni Shrine a symbol of militarism where Class-A criminals of World War II are honoured.

Premier Wen Jiabao declined to meet Koizumi on the sidelines of an East Asian summit earlier this month in Malaysia, urging Tokyo to properly atone for its wartime past.

Wen said ties between China and Japan continue to be sour because the Japanese leaders failed to correctly face up to the history.

In that summit, Wen also tried to ease neighbours' concern about China's booming economy, saying that a fast developing China will benefit the entire region.

Referring to the prospect of holding Sino-Japanese foreign ministerial talks, Qin said China is not responsible for the frosty bilateral relations and is in favour of dialogue. However "it requires a suitable atmosphere and conditions."

Observers said Aso's statement could further fan trouble between the two countries as the tension has blocked formal meetings between the top leaders since 2001.

(China Daily 12/23/2005 page1)