Japan whalers, Greenpeace in ocean stand-off
(Reuters)
Updated: 2005-12-22 10:40
A Japanese whaling fleet and Greenpeace environmental activists are involved in a stand-off in the remote Southern Ocean near the coast of Antarctica with the two sides accusing each other of ramming their vessels.
Greenpeace said that after a month-long search it had tracked down six Japanese ships -- which set out on November 8 to conduct what Tokyo says is a scientific whaling programme -- several thousand kilometres (miles) south of Perth.
Two Greenpeace ships Esperanza and Arctic Sunrise launched inflatable boats on Wednesday to harass Japanese "catcher boats", positioning between the whale and harpoon gun.
Then several more "catcher boats", which had been whaling further away, returned with their load to the mother ship where the whales are cut up.
"So the Esperanza positioned itself immediately behind the mother ship so the catcher boats couldn't offload their whale carcasses. Some of the catcher boats tried to push the Esperanza out of the way by colliding with it," Greenpeace Australia Pacific Chief Executive Steve Shallhorn told Reuters on Thursday.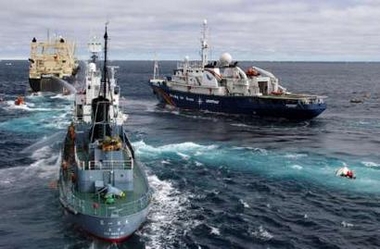 Handout image shows the Greenpeace vessel Esperanza (R) and small inflatable Greenpeace boats trying to hinder the operations of two Japanese whaling vessels in the Southern Ocean December 21, 2005.[Reuters]

Japan abandoned commercial whaling in 1986 in line with an international moratorium and began what it calls a research programme the following year. Critics said the programme was a disguised commercial hunt for meat for upscale restaurants.

Despite international disapproval, Japan announced in June plans to nearly double its annual catch of minke whales to 850 and add fin whales and eventually humpbacks -- two types of whales conservationists say whose survival is threatened.

Australia has been a staunch critic of Japan's whaling programme and Prime Minister John Howard reiterated his opposition in a meeting with Japanese Prime Minister Junichiro Koizumi on the margins of a regional summit in Malaysia last week.

PIRACY

A spokesman for the Japanese Fisheries Agency said it was the Greenpeace ship that had rammed the Japanese vessel.

"It seems like piracy. I strongly hope that Greenpeace refrain from such kind of dangerous action immediately," the spokesman told Australian Broadcasting Corp. radio.

"The reasons why we are conducting these kinds of activities is to collect scientific information for much more appropriate management of whale resources in the Antarctic."

Greenpeace said it planned to continue its action against the Japanese fleet for at least another month.

Australia's Environment Minister Ian Campbell said that while he shared Greenpeace's opposition to whaling, he wasn't convinced the group was taking the best approach.

"In some respects it can be counter-productive, although I share the passion. We share the objective of trying to stop whaling," Campbell told Australian Broadcasting Corp.

"What I'm trying to do is to bring diplomatic pressure ... to seek to convince Japan, primarily, but also Norway and Iceland, that this is a practice that is inhumane. There is no justification in science for continuing to whale."