Union heads could face jail over New York strike
(Reuters)
Updated: 2005-12-22 10:30
The leaders of the union behind New York's crippling mass transit strike could face jail, a judge warned on Wednesday as commuters were forced to improvise for a second day to get to work.
The day after a court slapped $1 million a day in fines on the striking union, a judge ordered TWU Local 100 leader Roger Toussaint and other top officials to appear in court on Thursday, warning that jail was a "distinct possibility."
Toussaint apologized to New Yorkers for the inconvenience but said the strike was provoked. He also said the union was talking to mediators and would consider returning to work if transit authorities withdrew a contentious pension proposal.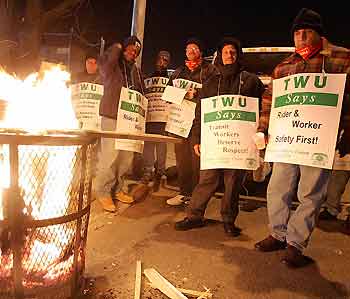 Transit workers on strike warm themselves by a fire during the evening rush hour in New York on December 21, 2005. New York transit workers walked off the job on Tuesday for the first time in 25 years, stranding millions of people who rely on the bus and subway system each day. [Reuters]

But in a sign the standoff would continue, Metropolitan Transportation Authority Chairman Peter Kalikow issued a statement calling removal of the pension proposal an "outrageous demand" and urged Toussaint to reconsider his position.

The bus and subway strike by some 34,000 transit workers is New York's first for 25 years.

State law prohibits public sector employees from striking, and the judge is considering imposing fines on workers.

Mayor Michael Bloomberg denounced the "illegal and selfish" strike, but said jailing union heads would risk making them martyears and that he would prefer heavier fines.

Public opinion was divided in response to the strike, but feelings were high. One bar ran a newspaper ad saying it would charge Transit Workers Union members $1 extra per drink to compensate for the loss of business, adding: "Bah Humbug!"