HK opposition reject election reform package
By Teddy Ng (China Daily HK Edition/Xinhua)
Updated: 2005-12-22 08:35
Hong Kong opposition legislators Wednesday voted down the government's constitutional reform package on the electoral methods for the 2007 chief executive (CE) and the 2008 Legislative Council (LegCo) elections.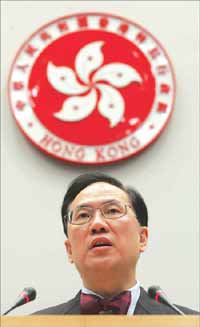 Hong Kong Chief Executive Donald Tsang briefs the media early December 22, 2005, after opposition lawmakers in Hong Kong voted down a election reform package. [China Daily]

The package needed two-thirds of the 60 lawmakers' support to be passed. But only 34 voted in favour of the reform with one abstention (by Lau Chin-shek).

The government package had proposed to double the size of the Election Committee (EC) that elects the CE from 800 to 1,600, making all district council (DC) members automatically a part of EC. The legislature in 2008 would get an extra 10 seats, with DC members filling half of them through an election among themselves.

The government announced adjustments to the package on Monday that included measures to reduce the number of appointed DC seats from 102 to 68 in 2008, to decide whether to abolish the rest or reduce the 34 in 2012 and finally do away with them altogether in 2016.

But the opposition camp was not satisfied with the adjustments and insisted that the government include in the package a timetable for universal suffrage, which was ruled out in the April 2004 Decision of the National People's Congress Standing Committee.

CE Donald Tsang made a last minute effort to gain lawmakers' support by meeting several "pro-democracy" camp members, including accounting sector's Mandy Tam, health service sector's Joseph Lee, independent legislator Albert Cheng and Hong Kong Association for Democracy and People's Livelihoods Frederick Fung, on Tuesday night. He also held a meeting with Tam, Fung and Hong Kong Confederation of Trade Unions legislator Lau Chin-shek yesterday afternoon.

The opposition legislators have to explain to the public why they strayed from the path to democracy by rejecting the government's proposal, Secretary for Constitutional Affairs Stephen Lam said yesterday.

The opposition camp should be held responsible for obstructing the democratic development of Hong Kong, he stressed, adding he could not understand why the opposition party had failed to appreciate the sincerity of the government and take a step towards democracy.

Lam said the electoral package was the result of months of hard work and lengthy discussions with the central government and long-drawn consultations with the public. It was the best given Hong Kong's actual situation.