Saddam claims he was 'beaten by Americans'
(AP)
Updated: 2005-12-22 06:53
Saddam Hussein again grabbed center stage at his mass murder trial Wednesday, suddenly standing up and surprising the courtroom with claims that he and other defendants were "beaten by Americans."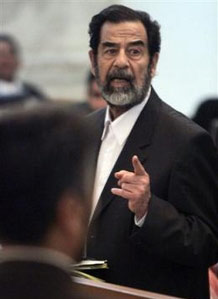 Saddam Hussein speaks at his trial in Baghdad Wednesday Dec. 21, 2005. [AP]

The deposed leader's lengthy complaint came after witnesses graphically described how their captors administered electric shocks and used molten plastic to rip the skin off prisoners in a crackdown following an assassination attempt against Saddam in 1982.

A U.S. military spokesman in Baghdad called Saddam's allegations "completely unfounded" but said "we are prepared to investigate."

"Beyond that, we have no interest in being a part of what are clearly courtroom antics aimed at disrupting the legal process," said Lt. Col. Barry Johnson.

The trial's chief prosecutor, Jaafar al-Mousawi, said if authorities found evidence of abuse Saddam could be transferred to the physical custody of Iraqi troops.

The former Iraqi leader and seven co-defendants are on trial for the deaths of more than 140 Shiites after the attempt on Saddam's life in the town of Dujail, north of Baghdad.

The prosecution's first witness Wednesday testified about killings and torture in Dujail. Ali Hassan Mohammed al-Haidari, who was 14 in 1982, said Saddam's regime executed seven of his brothers.

Al-Haidari said that he and other residents from Dujail ¡ª including family members ¡ª were taken to Baghdad and thrown into a security services prison, where people from "9 to 90" were held.

Blood poured from head wounds and skin was pale from electric shocks, he testified. Security officials would drip melted plastic hoses on detainees, only to pull it off after it cooled, tearing skin off with it, he said.

"I cannot express all that suffering and pain we faced in the 70 days inside," he said.

Two witnesses later testified from behind a curtain. One of them, identified only as Witness No. 2, said security officials "attached clamps to my thumbs and toes and private areas and tortured me with electricity until foam came out of my mouth."

After sitting quietly through several hours of testimony, Saddam launched into an extended monologue, saying he'd been beaten "everywhere on my body. The marks are still there." He did not display any marks.

"I want to say here, yes, we have been beaten by the Americans and we have been tortured," Saddam told the court before gesturing toward his seven co-defendants, "one by one."

With the trial televised across Iraq, his claims of torture at the hands of U.S. troops may resonate with Iraqis who have been shocked by the abuse of detainees at the Abu Ghraib prison, a scandal which led to the convictions of nine Army reservists. More recently, U.S. troops discovered abused prisoners at secret detention centers run by the Iraqi Interior Ministry.

Saddam had been defiant and combative during previous sessions of the trial, often trying to dominate the courtroom. He and his half brother Barazan Ibrahim, who was head of the Iraqi intelligence during the Dujail crackdown, have used the procedures to protest their own conditions in detention.

The ousted president had refused to attend the previous session on Dec. 7. "I will not come to an unjust court! Go to hell!" he said in an outburst in court the day before.

Earlier Wednesday before his accusations of torture, Saddam's behavior had been calmer, and he appeared clean-shaven and in fresh clothes, wearing a dark suit but no tie. On some previous occasions during the trial, Saddam appeared disheveled and complained about being held in unsanitary conditions.

Saddam stood in the fenced-in defendant's area and occasionally jabbed his finger toward the judge and prosecutor during his discourse Wednesday. He tried to refute witness statements and complained at length about the conditions of his detention, engaging in a debate with the chief prosecutor. Some of the exchange was edited out of the television broadcast.

Saddam also told the court that he knew the name of the person who betrayed his hiding place when U.S. forces found him in December 2003.

State Department spokesman Sean McCormack called it "highly ironic" that Saddam would accuse his jailers of mistreatment.

"I know of nothing that would substantiate such a claim," McCormack said. "Look, he's been given to grandstanding in this trial, but where the focus should be is on the testimony of those people who were victimized by the tyranny, the oppression and the violence of Saddam Hussein. That's what people should be listening to."

According to the Pentagon, the Iraqi government has legal custody and control of Saddam, while U.S. forces maintain his physical custody in a detention facility.

Inside the courtroom, the judge struggled, sometimes unsuccessfully, to maintain order as the procedures at times seemed to slip out of control.

Ibrahim insulted witnesses, calling one a "dog." He also launched rambling diatribes and menacingly wagged his finger at prosecutors and court guards.

Saddam also interrupted al-Haidari's testimony to ask the judge if the court could take a break for prayer. Although the witness agreed, the judge ordered the trial to continue. About 10 minutes later, Saddam swung to the left, closed his eyes and repeatedly bowed his head in prayer, the first time he has done that in court.

"Even if any of you doesn't pray, the constitution of the state, be it the one signed by Saddam Hussein or the constitution that was dictated to the Iraqis by the American adviser, states that Islam is the religion of the state. I alerted you twice that it was time for prayers, but you ignored me."

"I didn't ignore you," the judge responded.

"How can you put God on hold?" Saddam asked.

Muslims are required to pray five days a day at specific times.

In the 1980's, Iraq under Saddam was one of the most secular Arab states in the Middle East and Baghdad had some of the most vibrant nightlife in the region.

Following Operation Desert Storm in 1991 and as U.N.-imposed sanctions ground down the Iraqi economy, Saddam outwardly became more pious. He was seen praying and launching campaigns to reinforce the faith. Bars were restricted and nightlife became more muted.

Critics said his praying in court was a further effort to reach out to increasingly conservative Iraqis.

"Those who know Saddam well will not be duped by these scenarios. He kept trying hard to affect Iraqis emotionally and religiously and trying to deliver a message that he is a victim and not a tyrant," said Mariam al-Rayes, a Shiite legislator.