China aerials jumping for Olympic gold
By Lei Lei (China Daily)
Updated: 2005-12-21 07:08
Grabbing all the top places in the women's side of this season's Federation Internationale de Ski (FIS) Freestyle Aerials World Cup series, the Chinese freestyle aerials team is setting their sights on the medals in next February's Turin Winter Olympic Games.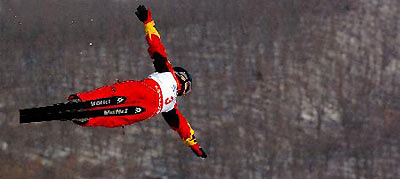 Xu Nannan tops the game in Changchun, Jilin Province, December 18, 2005. [Xinhua]

"I'm hoping for at least two to three medals for the team at the Olympics," said Dustin Wilson, the team's Canadian coach.

"The women's team has a better chance and the focus for them is to win a gold."

Xu Nannan's silver medal in the women's aerials in the 1998 Nagano Winter Olympic Games, marked a breakthrough for China in snow events at the Olympic Games and they have since gone from strength to strength in this field.

But with Xu's bad form four years later, a younger skier Li Nina finished in fifth place at the 2002 Salt Lake City Winter Olympics, securing China's strong position in the event.

Ever since late last year, Li has produced consistently well in the World Cup series, successfully clinching six titles.

In last season's World Championships in Ruka, Finland, the 21-year-old Li also won China its first aerials world championship title. So with the teams' strengths continuing, the opportunity for a gold in Turin definitely exists.

"They are very strong as a group and they train very hard," commented Wilson, who has coached the team for a whole year. "Their disadvantage is some of them do not have so much experience but our leaders have. Li's success last season played an important role in build the team's confidence, though other competitors are getting strong in this field throughout world."

Olympic backbone formed

During the Olympic qualifiers, China won four women's and four men's slots and three of the slots for each team have been decided yet.

Led by veteran Xu and Li, a 22-year-old Guo Xinxin won the third ticket with complicated jumps.

"Guo is the only girl in the team capable of doing triple jumps," said Wilson. "There are only four or five girls in the world that can do the triples so Guo right now is really strong."

Suffering from a knee injury for the whole of last year's season, the 27-year-old Xu made a strong come back this year by winning one stop of the World Cup series with a further fifth and fourth finish among the past four stops.