Foreign journalists promised greater help
By Cao Desheng (China Daily)
Updated: 2005-12-21 06:02
China's top information officer yesterday pledged to make it more convenient for foreign journalists to cover the country.
Cai Wu, minister of the State Council Information Office, made the promise at a New Year reception he hosted last night.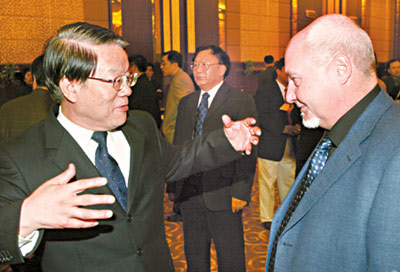 Cai Wu, minister of the State Council Information Office, chats to Gennady Krivosheev, bureau chief of Interfax China, at a New Year reception Tuesday night. [China Daily]
About 300 guests from Chinese and foreign media organizations, diplomatic missions, ministries and commissions under the central government, and commercial firms were present.
Cai said he would like to thank all the journalists who have helped the world know China better through accurate and objective reporting.
"We want to send a strong message through the media that China is determined to stick to the path of peaceful development," the minister said.
"We also hope the pens and cameras in your hands will help the world learn of China's determination and confidence in working together with other countries for a peaceful, prosperous and harmonious world."
There has been an increasing number of international reports about China, particularly positive ones, Cai noted.
"We hope more and more journalists from the international media come to China to cover achievements as well as problems in an objective manner," he said.
Describing his office as an organization to serve the media, Cai said he welcomes any suggestions or proposals.
Gennady Krivosheev, bureau chief of Interfax China, appreciated the efforts of Cai's office in providing information during the past year.
"They arranged a lot of press conferences, including the recent ones on bird flu and pollution in the Songhua River, which helped the rest of the world get a truer picture of China."
The 56-year-old, who started work in China in 1978, said: "As journalists, we are very interested in China's economic achievements as well as foreign policies."
(China Daily 12/21/2005 page1)