Taiwan pilot's maiden flight with mainland airline
(newsphoto)
Updated: 2005-12-21 06:25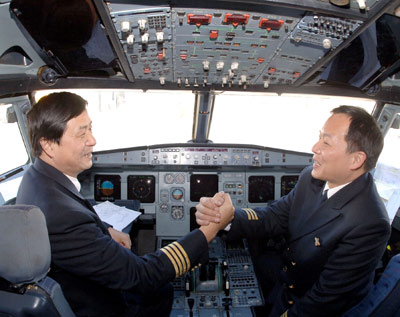 Zhang Lu-jen [R], a pilot from Taiwan, celebrates his maiden flight with the Sichuan Airline with mainland co-pilot Zhou Xiaojun after landing at the Capital International Airport in Beijing December 20, 2005. Sichuan Airline is the first in the mainland to recruit Taiwan pilots. [newsphoto]
CHENGDU: An Airbus A321 landing in the Capital International Airport in Beijing made history yesterday morning.
The flight from Chengdu, capital of Southwest China's Sichuan Province, contained a pilot from Taiwan, Zhang Lu-zhen, who was among a small group from the island province that started work yesterday.
Sichuan Airlines, which is employing the group of eight, is the first on the mainland to enrol pilots from the island province, Gu Bing, deputy chief of the Publicity Department of Sichuan Airlines, told China Daily.
Of the eight pilots, who have signed contracts of three to six years, five have passed tests and received temporary flying licences from the Southwest Branch of the Civil Aviation Administration of China (CAAC). They are now applying for formal licences from the CAAC, which normally takes about two weeks.
A temporary licence is valid for four months. The other three pilots are going through formalities to apply for their temporary licences.
The five pilots who have been granted temporary licences are all about 40 years old, each with more than 15 years experience, notching up flight hours ranging from 5,000 to 10,000.
The mainland, which has the world's fastest growing aviation market, has a strong pull for pilots in Taiwan, according to Yan Jun, former chief of the Taiwan Civil Aviation Pilots Association.
A survey conducted by the organization revealed nearly all of those questioned expressed a willingness to work on the mainland, he said.