2004 GDP revised up 16.8%, ranking 6th largest economy
(Xinhua)
Updated: 2005-12-20 13:43
China on Tuesday revised its GDP (gross domestic product) for 2004 to 15.9878 trillion yuan (about 2 trillion U.S. dollars), up 2.3 trillion yuan, or 16.8 percent from the preliminary figures.
The country's top statistician Li Deshui made the announcement at a press conference of the Information Office of the State Council, citing the result of a national economic survey.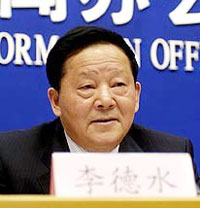 Li Deshui, director of the National Bureau of Statistics.

The country has overtaken Italy as the world's 6th biggest economy.

Li said the gap to catch up with the fourth and fifth economies -- Britain and France -- is "narrowing." But Li admitted that China's per-capita GDP is still very weak, ranking behind the 100th in the world economies.

The value-added of the tertiary industry was 6.5018 trillion yuan, 2.1297 trillion more than the annual preliminary estimation announced earlier this year. And the industry's share in the GDP rose from the earlier estimated 31.9 percent to 40.7 percent, an increase of 8.8 percentage points.

The increase of service sector output accounted for the largest part, or 93 percent, of that of the GDP.

Li said China had long been using the Material Product System (MPS) which was developed under the centrally-planned economic system in its national account statistics until the 1980s, resulting in "very weak" statistics for the service sector.

The scope of tertiary industry is turning wide and complex with a large number of units, which have no good means for accounting and statistics, he said.

Meanwhile, along with the economic reform, China has seen a diversified economic development in terms of ownership, and in particular, a dynamic development of private and individual-run service activities.

"It is very difficult to conduct statistical surveys as they are very scattered with frequent changes, resulting in a certain degree of under-coverage," said Li.