Cheney pledges support to Afghan democracy
(AP)
Updated: 2005-12-20 09:56
US Vice President Dick Cheney, celebrating democratic milestones in countries where U.S.-led invasions have toppled oppressive governments, promised Afghans on Monday that the United States will not abandon its commitment to their infant democracy.
Cheney's presence in a front-row seat at the opening of the Afghan parliament came a day after a surprise visit to Iraq, where the vice president basked in the afterglow of that nation's successful parliamentary elections last week.
Cheney did not speak at the inaugural ceremonies for Afghanistan's national assembly, where 249 people, many in turbans and head scarves, took the oath of office. But by simply attending, he reflected the significance of the day to a White House that is in full campaign mode to improve its image and shore up the war on terror.
"The victory of freedom in Afghanistan as well as Iraq will be an inspiration to democratic reformers in other lands," Cheney said in an address later to U.S. troops serving in Afghanistan.
Cheney said the U.S. invasion that ousted the former Taliban "helped prepare the way for democratic institutions and a free society."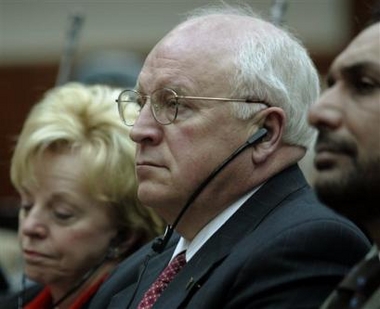 U.S. Vice President Richard Cheney and his wife, Lynn, participate in the opening session of the Afghan Parliament, Monday, Dec. 19, 2005, in Kabul, Afghanistan. [AP]

"In free elections, the Afghan people have shown the world their determination to chart their own destiny," he said at Bagram Air Base. "In this journey of freedom and progress, they will continue to have the full support of America and our coalition."

At the parliament, Cheney ¡ª accompanied by his wife, Lynne ¡ª listened to an English translation of the celebration from an earpiece. Two other U.S. representatives, Ambassador Ronald E. Neumann and coalition commander Lt. Gen. Karl Eikenberry, did the same.

Colorfully dressed children scattered flower petals throughout the chamber and teenagers sang an Afghan song. President Hamed Karzai grew visibly emotional during his hour-long address to the new lawmakers.

Later, as Cheney lunched on kabobs, bread and rice with Karzai at his palace, the Afghan leader offered gratitude to the United States. The day "means progress. It means achievement. It means togetherness," Karzai said as the two men shook hands for the cameras in front of two dozen Afghan soldiers standing at attention.

Cheney told the U.S. troops they should be proud they helped liberate 25 million Afghans from the Taliban's tyranny.

"We are firmly committed to the safety of the Afghan people, to the success of this democracy, and to lasting peace and stability in the region," he said. "There is still a terrorist element in this country, and some Taliban die-hards who apparently are slow learners. The job of this task force is to find these enemies, to confront them directly, and to take them out of commission."

The vice president is on a five-day tour aimed at strengthening support for the war on terror. He also planned to visit key allies Pakistan, Egypt and Saudi Arabia before returning to Washington on Sunday.

The Cheneys' seven-hour visit to Afghanistan began when his unmarked C-17 landed at Bagram Air Base and he flew via helicopter to the parliament building. The chopper landing stirred up a dust storm, but the Cheneys ducked into a black SUV for a more secure street-crossing into the parliament grounds.

Secret Service agents stayed unusually close for the short ride, walking alongside the Cheneys' vehicle with their hands on its side. A gun-toting Afghan soldier dressed in fatigues pushed some of the vice president's staff and press corps against a wall until the compound gate closed behind the truck, leaving part of Cheney's entourage stranded outside.

Afghan security forces insisted on searching all their bags, over the objections of Secret Service agents who said they already had been examined. The confrontation between the Afghans and Americans grew tense at times. At one point a U.S. official demanded that the Afghans lower their weapons.

The vice president's military aides refused to have their bags searched ¡ª they were carrying classified nuclear war plans that are supposed to be with Cheney at all times. A White House advance staffer angrily demanded that the Afghans allow them inside to be near Cheney without being searched.

The Afghans relented but insisted on body searches for the rest of Cheney's traveling party. The men were patted down outside in a dusty courtyard, while the women were taken into a small room and searched completely by hand by Afghan women.