International equity firm buys into insurer
By Hu Yuanyuan (China Daily)
Updated: 2005-12-20 06:43
The Carlyle Group, one of the world's largest private equity firms, yesterday signed an agreement to buy a 3.3 billion yuan (US$408.7 million) stake in China Pacific Life Insurance Co (CPIC), according to a joint statement by the companies.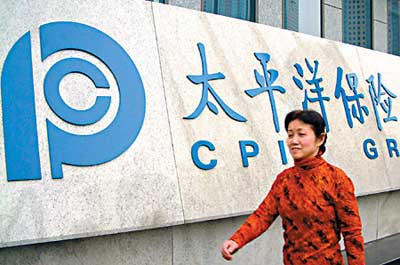 Carlyle Group signed an agreement to buy a 3.3 billion yuan (US$408.7 million) stake in China Pacific Life Insurance Co (CPIC) on December 19, 2005. [newsphoto]
Carlyle, together with its partner Pramerica Financial, now owns a 24.975 per cent stake in China's third-biggest life insurer.
Meanwhile, CPIC will also contribute the same amount of capital, with the total funds to be injected into the firm hitting 6.6 billion yuan (US$815 million), the statement said.
The transaction will largely quench CPIC's thirst for capital, which has previously been a major problem.
CPIC's life insurance business is required to have 4.35 billion yuan (US$53.7 million) in cash to meet policy obligations by the end of this year, according to analysts.
"We have been falling in love for quite a long time and have spent three years in talks," said Wang Guoliang, chairmen of CPIC Life.
In the past few years, CPIC Life's parent company, CPIC Group, has actively sought international capital, additional management expertise and technology.
And the company said it had finally found the right partner.
The transaction, following approval from CPIC Group shareholders on October 26, 2005, is expected to be finalized within a month.
According to the agreement, the Carlyle partnership will provide CPIC Life with strategic, operational and industry expertise to strengthen the company's performance and competitive edge.
Areas of co-operation will include upgrading corporate governance, risk management, investment management, product sales, marketing and IT systems.
These measures will enable CPIC Life to fully exploit its existing position as China's third largest life insurer, the firm said.
"Our agreement with Carlyle will dramatically accelerate CPIC Life's expansion plans and its participation in the world's fastest growing life insurance market," said Wang Guoliang.
"Carlyle's formidable network of relationships and its successful track record will help attract top notch management talent, expertise to transform the business, and future business partners."
Wang also confirmed that CPIC Life's co-operation would last at least three years.
If Carlyle considers pulling out, Pramerica Financial will be given priority in taking over the stake.
According to Yang Xiangdong, managing director and co-head of the Carlyle Asia Buyout Group, the co-operation with CPIC Life will be a prime example of Chinese financial reform.
"The transaction, the largest private equity investment in China to date, is a testimony to the maturing investment and regulatory environment in China and to the government's commitment to financial reform," said Yang.
Carlyle will nominate a new management team under the leadership of CPIC Life's chairman.
This is Carlyle's second major investment in China in the past two months and underlines the company's long-term commitment to investing in the country.
In October, Carlyle signed an agreement to acquire an 85 per cent stake in Xugong Group Construction Machinery Co Ltd for US$375 million.
The great potential of Chinese fledging insurance market is one of the major reasons why it has attracted so many foreign insurers.
The Chinese insurance market has enjoyed a 30 per cent yearly increase rate over the past two decades.
A Sigma report from Swiss Reinsurance suggests that China's premiums are likely to top 453.1 billion yuan (US$55.9 billion) in 2006.
Boston Consulting Group believes that this figure will hit 830 billion yuan (US$102 billion) in 2008.
(China Daily 12/20/2005 page9)