Bo: GDP growth exceeds 9% in 2005
(Reuters)
Updated: 2005-12-19 13:51
HONG KONG - China's economic growth is on track to surpass 9 percent in 2005, Commerce Minister Bo Xilai said on Monday.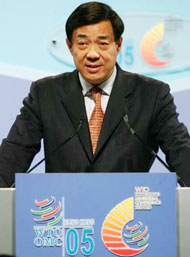 Chinese commerce minister Bo Xilai makes a statement during a conference of the sixth World Trade Organization (WTO) Ministerial Conferences at Hong Kong's Convention and Exhibition Centre December 14, 2005. [Reuters]

"This year's GDP will certainly be over 9 percent," Bo told reporters following World Trade Organisation meetings in Hong Kong.

The National Development and Reform Commission said last month that gross domestic product (GDP) would grow about 9.3 percent for all 2005, compared with 9.4 percent growth in the first three quarters of the year.

Although China's economy continued to grow, the country remained "a through-and-through developing country" and deserved to be treated the same as other poor countries in the contentious trade talks, Bo said.

On Sunday, the 149 member countries and territories of the WTO saved the long-running talks from collapse with an interim deal to end farm export subsidies by 2013 and open rich nation markets a bit wider to the poorest nations.

Bo said that under the deal, "China's weak agricultural products can win protection", referring to a formula in the agreement that allows developing countries to nominate three percent of agricultural product lines for "special protection".

While China's economy is growing rapidly, it continues to have a relatively low per-capita GDP and millions of Chinese live on a dollar a day.

China's National Bureau of Statistics is expected to announce on Tuesday a revised figure for its 2004 GDP, based on a comprehensive economic census it has just completed.

A government source told Reuters on Friday the change was expected to show the Chinese economy in 2004 was actually 16.8 percent larger than previously recorded.

China's GDP totalled $1.65 trillion in 2004, current data shows, meaning the revision could bring its size for that year to about $1.93 trillion, while per capita GDP would increase to about $1,500 from the current $1,268.