Will Beijing streets be buzzing with Broadway tunes?
By Raymond Zhou (China Daily)
Updated: 2005-12-19 05:29
Hong Kong actress and singer Karen Mok is to star in the Tony-winning Broadway musical "Rent" (Jiwu Chuzu) when it tours Asia. This casting decision is sure to bring in the crowds in Beijing and Shanghai, even if they are unsure of this exotic performance genre.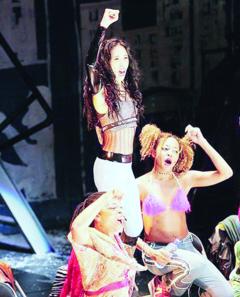 Hong Kong actress and singer Karen Mok performs in the Tony-winning Broadway musical "Rent" in Hong Kong on December 13. [sohu]

"Rent" will open in Beijing on December 30 at the Beizhan Theatre, and will run until January 5.

Unlike in Hong Kong, as well as in Singapore, Chinese mainland audiences have not had much exposure to musical theatre, even though traditional folk opera is similar.

A major obstacle for acceptance is the content, which often seems outlandish, and besides, the word games in the lyrics do not come across well in translation.

Take the plot of "Rent." How much do we know about New York's East Village and its aspiring artists? Can we tell them apart from those in SoHo and Greenwich Village, let alone Midtown Manhattan?

On top of that, one needs to have some background knowledge of Puccini's "La Boheme" because "Rent" is a tribute to the opera and uses its storyline and musical themes.

For a Broadway musical to truly generate a following in China, more needs to be done than merely projecting a Chinese translation of the lyrics on to the stage.

Hiring local talent is one hook, but the audience must be able to relate to the story and have time to take in the music.

For an old favourite like "The Sound of Music" that was easy, but for something as quintessentially American as "Rent" or "Chicago," it will be harder.

The trick is to find common ground and parallels. "Chicago," which came to Beijing a year ago on the strength of the film version, deals with celebrity worship, a phenomenon very much in vogue in today's China.

The characters in "Rent" appear to have cousins in distant Beijing, a city that is reportedly home to 150,000 "bei piao" (wanderers to the north), those who are in the capital trying their luck in the hope of landing dream jobs in the arts and entertainment.

The bohemian culture, running from 19th century Paris as personified in "La Boheme," to 1989-1990 New York, when "Rent" takes place, and present-day Beijing, has so many overlapping undercurrents that, if presented correctly, could strike a chord with a Chinese audience.

Of course there is not much a touring company can do with a couple of shows in each city or country. But for a sustained run, one needs ingenuity. The way foreign films have become successful in China may shed some light on a possible strategy.

In the early 1980s when foreign films were very popular they were invariably dubbed into Chinese. Earlier in the 1930s, many Hollywood productions were remade as local versions.

Around the time Oscar Wilde's "Lady Windermere's Fan" was shown in Shanghai cinemas, two Chinese versions were also filmed.

In other words, this form of "xi yang jing" (Western foreign image) took action to ease the Chinese audience into a position where they could fully appreciate the show.

I'm not saying you have to change the locale of "Rent" from the East Village to a Beijing street in order to gain acceptance here, but that certainly is one technique that could be employed for long-running shows.

In essence, it is not much different from a multinational corporation launching a product on the Chinese market. It has to be customized for the local consumer, who craves an elusive ratio of familiarity to foreignness.

Now that the film version of "Rent" has been released, there's no way a touring production can compare in star power or authenticity. Perhaps localizing is the answer.

(China Daily 12/19/2005 page5)