Opposites attract as China's top film makers duel
(AFP)
Updated: 2005-12-19 09:15
No-one has done as much for the modern Chinese movie industry as venerated directors Chen Kaige and Zhang Yimou. So as China celebrates its centenary of cinema this month, it's apt that the country's leading lights are going head-to-head at the box office.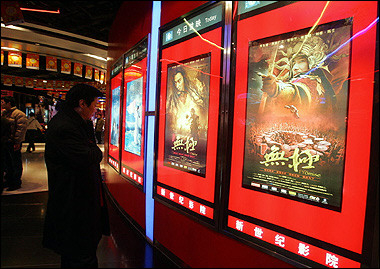 A man looks at advertising posters for 'The Promise' at a Beijing cinema house. No-one has done as much for the modern Chinese movie industry as venerated directors Chen Kaige and Zhang Yimou. So as China celebrates its centenary of cinema this month, it's apt that the country's leading lights are going head-to-head at the box office. [AFP]


Surprisingly though, Zhang, director of big-budget blockbusters "Hero" and "House of Flying Daggers", has gone back to basics with a modestly budgeted art film, while Chen has boldly taken over the epic martial arts mantle with the most expensive Chinese-made film ever made.

Despite the films' differences, talk of rivalry is rife as Chen's 42 million dollar fantasy film "The Promise" opened in Beijing on Wednesday, just a week before the release of Zhang's down-to-earth "Riding Alone for a Thousand Miles".

But Zhang is downplaying the significance.

"Everyone is putting ("The Promise" and "Riding Alone for Thousands of Miles") together and I think is a good thing because if everyone is talking about them then they will do well at the box office," he said in an interview in the current edition of New Weekly.

"But for myself, I don't really pay attention to this because I think that to make movies by competing against someone else is just too ridiculous. It should be enough just to try to make a good film."

The two directors are credited with bringing Chinese film into the modern era following the disastrous decade-long Cultural Revolution which ended in 1976 and gave way a period of opening up and reform that ushered in 25 years of robust economic growth.

As film budgets have grown, both Chen and Zhang have focused on making commercially viable films that are steeped in special effects and able to attract large audiences both in and outside of China.

"I want to be a friend of the audience and sincerely bring to them a film like 'The Promise' in the hope that it will bring a lot of happiness to the public," Chen, 53, said this week in a webchat on Sina.com, one of China's leading Internet portals.

"I have all along felt that in today's film industry it is impossible to completely divorce oneself from special effects. Special effects help us realize and expand our imagination, help us realize the things we have in our heads."

Recent films from both directors have been a far cry from their earlier works which were often banned domestically for failing to meet the political requirements of China's censors, but then went on to win film prizes and critical acclaim abroad.

Chen's use of special effects in "The Promise" go beyond Zhang's 2002 film "Hero" and last year's "House of Flying Daggers," both of which wowed audiences with their fight scenes and dazzling cinematography.

"Hero" reportedly reaped some 280 million yuan (34.5 million dollars) in box office receipts worldwide, setting a record as the biggest grossing Chinese-made film and topping the United States' box office for two consecutive weeks, while "House of Flying Daggers" was last year's top Chinese revenue earner grossing some 153 million yuan (18.5 million US dollars).

But Chen has upped the ante with his new release, to be distributed in the United States under the title "Master of the Crimson Armor" and which has already been put forward as China's entry for Best Foreign Film at the Oscars. It has also been nominated for a Golden Globe.

"'The Promise' has outdone 'Hero'," Shanghai's Oriental Morning Post said following preview screenings in October. The paper, which predicted the film would outdo "Hero" at the box office, praised Chen for focusing his storyline on China's long-time philosophical obsession with fate and trying to change one's destiny.

The story surrounds three love rivals -- a slave, a general and an evil duke -- who battle to win the hand of willowy Hong Kong leading lady Cecilia Cheung.

The film's international cast, including Korean heart throb Jang Dung-Kun as the slave, Japan's Hiroyuki Sanada as the general and Hong Kong's Nicholas Tse as the duke, is also likely to boost the movie in Asia's biggest film markets.

Zhang too has drawn on overseas talent, casting Japanese actor Ken Takakura in the lead of his new film.

The director has been seeking to work with Takakura since he first saw him on the silver screen in the 1970s when he was a student at the Beijing Film Academy.

"I created this film to make my dream come true," Zhang, 54, told reporters at a special screening in Tokyo.

"I was so impressed by Mr. Takakura's unique style of solitude and quietness when I saw his film 'Kimiyo Fundo no Kawa o Watare' (Cross the River with Anger) 30 years ago," he said.

Zhang cast Takakura in a non-speaking role in "Hero", but the 74-year old Japanese legend, dubbed the " Clint Eastwood" of Japan for his roles in 1960s gangster movies, said he wanted a better, "more moving" part.

"Riding Alone for Thousands of Miles" follows the journey of a Japanese fisherman and his dying son as they travel to China in search of the secret behind a local opera.

The film is a return to Zhang's mid-career, lower-budget works such as "Qiu Ju Goes To Court" (1992), and 1999's "Not One Less" and "The Road Home" that told moving stories of individuals as they struggled through life in China.

Zhang has won acclaim for his strikingly visual films such as "Red Sorghum", "Ju Dou" and "Raise the Red Lantern", all films set in China's countryside and which starred Gong Li.

Chen and Zhang's careers have run in parallel. Both 1982 graduates of the Beijing Film Academy, China's most prestigious film school, they worked together on Chen's critically acclaimed directorial debut "Yellow Earth", with Zhang as cinematographer.

The two directors have rivaled each other before, with Zhang's "Hero" based on the legendary assassination plot against China's first emperor Qinshi Huangdi, the central theme in Chen's 1999 big-budget box office flop "The Emperor and the Assassin".

Chen's most popular film to date is 1993's "Farewell My Concubine," which took home the Palme d'Or and the International Critics Prize at Cannes, his other works include "Life On A String", "Temptress Moon" and the Hollywood-backed "Killing Me Softly" in 2001.