HK recovers from violent protests during WTO meeting
By Tonny Chan and Joseph Li (China Daily)
Updated: 2005-12-19 05:23
HONG KONG: Wan Chai largely returned to peace yesterday after a night of the worst violence seen in decades.
Over 130 people including 61 police officers were injured during many hours of confrontation between police and rioting crowds demonstrating against the World Trade Organization (WTO). Police have arrested over 900 protestors.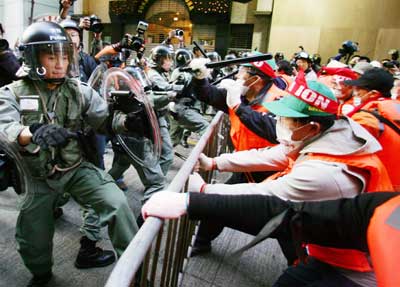 A South Korean protester hits riot police with a baton seized from a policeman as they try to break through a police line on their way to the Hong Kong Convention and Exhibition Centre, venue for the sixth World Trade Organisation (WTO) Ministerial Conference in Hong Kong December 17, 2005. Hundreds of protesters battled past police lines on Saturday to reach the building where a meeting of world trade ministers is being held, a Reuters reporter said. [Reuters]

Yesterday, Chief Executive Donald Tsang pledged to prosecute those protesters who had attacked the police and damaged public property after visiting officers guarding the WTO conference, where delegates worked around the clock for a deal to end farm subsidies and open markets to foreign competition.

South Korean farmers confronting the police in Saturday's riots were vehemently opposed to their country's delegates agreeing to open their domestic markets to foreign competition, fearing this would drive local farmers out of business.

"We have detained quite a few hundred people and we are going through them carefully to see if we have identified those with sufficient evidence," Tsang said, promising those without sufficient evidence would be released.

There were reports that a senior foreign ministry official from South Korea would arrive in Hong Kong today to liaise over the fate of the Korean farmers arrested by the police. He will reportedly request Hong Kong to treat them leniently.