Cheney visits Iraq amid surge of violence
(AP)
Updated: 2005-12-19 08:32
Suicide bombers and gunmen killed nearly two dozen people across Iraq on Sunday, shattering the relative quiet since the parliament election, as Vice President Dick Cheney made a surprise visit and suggested the vote could pave the way for beginning a U.S. pullout.
Germany's government, meanwhile, said kidnappers had freed a German woman who was taken hostage in northern Iraq more than three weeks ago. Susanne Osthoff, a 43-year-old aid worker and archaeologist, was reported in good condition at the German Embassy in Baghdad.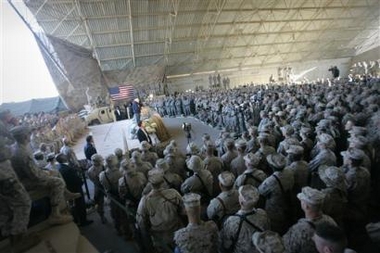 U.S. Vice President Dick Cheney addresses the Marines at Al-Asad Air Base, Sunday, Dec 18, 2005, in Iraq. [AP]

A series of attacks that began late Saturday ended three days of near calm that began with Thursday's elections for the first full-term parliament since Saddam Hussein's was toppled.

Most of the people killed in the new violence, which included two suicide bombings, were police officers. The bloodshed came after authorities eased stringent security measures ordered for the elections and traffic returned to normal on the first full working day since the vote.

Cheney's visit, under heavy security, was so secret that Iraqi Prime Minister Ibrahim al-Jaafari was surprised when he met him at the U.S. ambassador's residence in the heavily fortified Green Zone.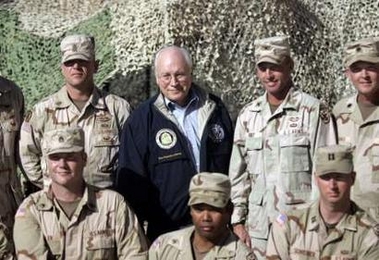 U.S. Vice-President Dick Cheney poses with U.S. soldiers at the Taji Air Base in Iraq December 18, 2005. [Reuters]

Coming just hours before President Bush's address on Iraq, Cheney's one-day stop focused on the successful legislative election and the strong turnout in all of Iraq's religious and ethnic communities.

"The participation levels all across the country were remarkable," Cheney told reporters after an hourlong briefing from U.S. military commanders. "And that's exactly what needs to happen as you build a political structure in a self-governing Iraq that can unify the various segments of the population and ultimately take over responsibility for their own security."

The big turnout ¡ª particularly among Sunni Arabs who boycotted the election of an interim legislature last Jan. 30 ¡ª has raised expectations that increased political participation may undermine the Sunni-led insurgency and allow U.S. troops to begin pulling out next year.

But Cheney stressed the Bush administration did not plan a rapid withdrawal.

"You've heard some prominent voices advocating a sudden withdrawal of our forces from Iraq," he told hundreds of troops. "Some have suggested that the war is not winnable and a few seem almost eager to conclude the struggle is already over. But they are wrong. The only way to lose this fight is to quit and that is not an option."

Cheney met with Iraq's leaders and military commanders in the Green Zone, saw an Iraqi troop training demonstration at Taji air base, lunched with soldiers and gave a speech to troops.

Al-Jaafari told Cheney that he estimated a record 70 percent of Iraq's 15 million registered voters went to the polls. He also described this year as "the most important in Iraq's history."

"We have been able to move forward several decades. The year 2005 is the most important in the history of Iraq in terms of productivity, of the establishment of the democratic process, the establishment of the constitution, the establishment of the Iraqi parliament," he said.