Big day for Basi, the giant panda
By Li Dapeng (China Daily)
Updated: 2005-12-19 06:44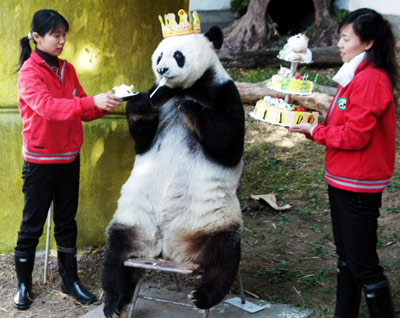 Giant panda Basi enjoys her birthday cake Sunday in Panda World in Fuzhou, capital of Fujian Province, where a grand party was held to celebrate her 25th year. [newsphoto]
FUZHOU: Flowers, fruit, a huge cake and a tablet carved with the Chinese character "shou" meaning longevity were all prepared to celebrate Basi's birthday.
It is not clear if she appreciated all the fuss, though; giant pandas can't speak, even at the grand old age of 25.
Yesterday hundreds of visitors swarmed into Panda World in the capital city of east China's Fujian Province to join in a special birthday party for Basi.
Across the park everyone could hear a special song specially written for the occasion.
The panda walked around her pool and later, maybe shy in the face of so many enthusiastic visitors, went to her little cave to enjoy the cake.
Basi is well-known at home and abroad. In 1987, she was sent to San Diego in the United States for a six-month exhibition. She was also what "Panpan," the mascot of the 11th Asia Games, (held in Beijing in 1990) was based on.
Basi has already lived quite a long time; the average life of the giant wild panda is only 12 years.
"Mom is coming to see you!" called out an old woman. She saved the panda's life 21 years ago in Baoxing County in Sichuan Province.