Last-minute trade deal clinched at WTO meeting
(AP)
Updated: 2005-12-18 18:52
HONG KONG - Trade negotiators reached a breakthrough Sunday on a last-minute deal, likely averting a collapse in talks that could have seriously crippled the World Trade Organization's ability to promote global free trade.
Meanwhile, about 1,000 demonstrators marched through downtown Hong Kong in an anti-WTO parade, a day after hundreds of protesters were arrested in one of the city's worst spasms of street violence in decades.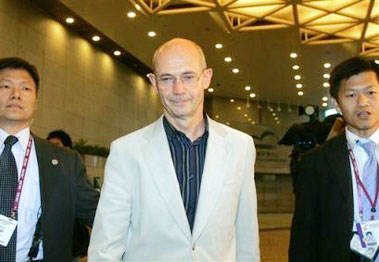 Escorted by security officers, WTO Director-General Pascal Lamy leaves the Hong Kong Convention and Exhibition Center after an overnight meeting Sunday, Dec. 18, 2005. The last-minute negotiations at the WTO summit were focused on whether delegates could agree on a date to end export subsidies, with developing nations saying a deal had been struck while the European Union said there still was no agreement. [AP]

The demonstrators chanted "Sink WTO" as trade ministers from around the globe wrapped up six days of negotiations at a World Trade Organization meeting. The protesters claim that the WTO's attempts to open up markets benefit big companies and the rich at the expense of ordinary workers and the poor.

The tentative agreement, coming after all-night negotiations, calls for wealthy countries to eliminate farm export subsidies by 2013. It paves the way for a modest agreement to cut trade barriers across various sectors, according to a copy of the final draft agreement obtained by journalists.

The draft was to be submitted for approval by all 149 WTO member nations and territories later Sunday. Since the WTO is a consensus-based organization, an objection by even one member could torpedo a final deal.

But delegates appeared to be moving toward agreement.

Brazil Foreign Minister Celso Amorim said the draft was "reasonable" and hopes it will adopted by all WTO members later Sunday.

"We welcome it," said India's Trade Minister Kamal Nath. "It is focused and it strikes at various problems of developing countries."

The 2013 date was a key demand of the 25-nation European Union, which held out against intense pressure from Brazil and other developing nations to phase out many of its farm export subsidies by 2010. Developing nations say the government farm payments to promote exports undercut the competitive advantage of poor farmers.

The revised text also sets April 30, 2006, as a new deadline to work out formulas for cutting farm and industrial tariffs and subsidies ¡ª a key step toward forging a sweeping global free trade treaty by the end of next year.