WTO negotiators race for compromise deal
(AP)
Updated: 2005-12-18 14:30
HONG KONG - Groggy trade negotiators struggled Sunday to hammer out an agreement that would reflect only modest progress in cutting global trade barriers as World Trade Organization talks entered their final hours.

Outside the venue, riot police removed hundreds of protesters who staged a sit-in that shut down one of Hong Kong's busiest streets a day after demonstrators rioted and battled with police.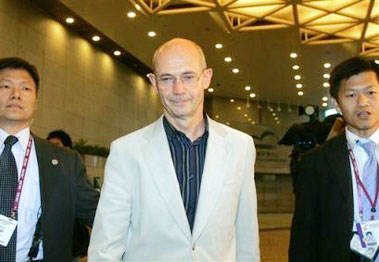 Escorted by security officers, WTO Director-General Pascal Lamy leaves the Hong Kong Convention and Exhibition Center after an overnight meeting Sunday, Dec. 18, 2005. The last-minute negotiations at the WTO summit were focused on whether delegates could agree on a date to end export subsidies, with developing nations saying a deal had been struck while the European Union said there still was no agreement. [AP]

With the meeting due to wrap up later in the day, negotiators were still unable to resolve a dispute over when to end export subsidies - an issue that has emerged as the make-or-break issue for the six-day WTO talks. Delegates were also wrangling over a proposal on cotton and a package to give the world's poorest nations special trade privileges.

Developing nations led by Brazil say export subsidies, payments to farmers to promote exports, undercut the competitive advantage of their farmers and are pushing for an agreement that will bind members to eliminate such programs by 2010.

But the 25-nation European Union insists that the cuts should wait until 2013 to give European farmers time to cope with tariffs that are scheduled to be implemented ahead of that date.

In overnight negotiations, Brazil apparently proposed cutting a certain percentage of export subsidies by 2010, but the EU rejected that as well, EU Agriculture Commissioner Mariann Fischer Boel said.

There will be "no percentage in 2010," she said midday Sunday after emerging from a meeting with EU ministers at a Hong Kong hotel.

Asked if an agreement on the export subsidy issue could be a basis for broader agreement on other areas, Fischer Boel said: "Let's see. If there is a will, sometimes there's a way."

U.S. Trade Representative Rob Portman, who favors the 2010 date, said the sides were "very close" to a deal.