Electrician detained for Liaoyuan hospital fire
(Xinhua)
Updated: 2005-12-18 09:26
LIAOYUAN, Jilin -- Police said Saturday they had detained the electrician blamed for a hospital fire that left 39 people dead in the northeastern city of Liaoyuan.
The electrician, surnamed Zhang, head of the electrician team for the City Central Hospital in Liaoyuan of northeast China's Jilin Province, was taken into custody for "violation of operating rules" that caused the tragedy, according to the Dongji branch of the Liaoyuan city public security bureau.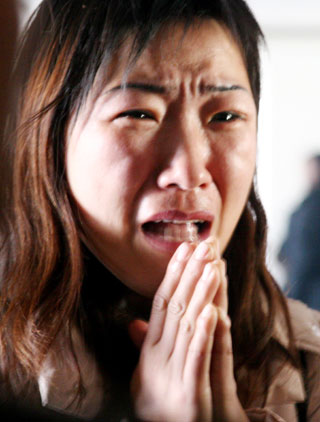 A woman cries at the news that her relative was killed in the hospital fire in Liaoyuan, northeast China's Jilin Province December 16, 2005. [newsphoto]

Police investigation shows that at 4:30 Thursday afternoon, Zhang, who was on duty, found a power outage in the hospital. He then went to the electrical distribution room on the second floor and resumed power supply without checking the cause of the blackout first, and left.

Hearing cracks in the room two or three minutes later, Zhang returned but only found smoke rising in there.

Zhang immediately ran out of the building to pull off the switch of the transformer. When he was back again, fire had started to spread.

The director of the department's logistics department, Zhang's superior, was also detained, police said.

The head of the hospital is being investigated by government departments concerned, sources said.

The fire broke out at about 4:30 Thursday afternoon and was put out at 10:00 at night.

It burnt some 5,000 square meters of the four four-storied buildings, which are conjoined to form a square, in the largest hospital of Liaoyuan, about 120 km southwest of Changchun, capital of Jilin Province.

"The fire is a rarely seen and the most disastrous one in the country's medical institutions since the founding of the People's Republic of China in 1949," said Health Minister Gao Qiang, who is in the city to deal with the aftermath of the accident.