Anti-WTO demonstrators clash with police in HK
(Xinhua)
Updated: 2005-12-17 21:14
Anti-WTO demonstrations in Hong Kong escalated with protesters clashing violently with police Saturday afternoon, the fifth day of the ongoing Sixth Ministerial Conference of the World Trade Organization (WTO).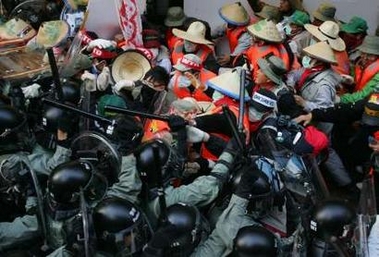 South Korean protesters wearing goggles and life vests break through riot police line during a confrontation as anti-globalization protesters march to the Hong Kong Convention and Exhibition Centre, venue for the sixth World Trade Organisation (WTO) Ministerial Conference in Hong Kong December 17, 2005. Hundreds of protesters battled through police lines on Saturday to reach a building where world trade ministers are meeting. Police fired several volleys of tear gas in the area near the building, Reuters correspondents said. [Reuters]


The demonstrators, mainly South Korean farmers, stepped up their protesting activities by ramming through the police cordon lines and tried to enter the Hong Kong Convention and Exhibition Center, venue of the conference.

Police reinforced riot police forces at the center and used tear gas and water cannons to prevent the demonstrators from entering the conference venue.