Official apologizes for hospital fire killing 39
By He Na (China Daily)
Updated: 2005-12-17 07:09
Zhao Zhenqi, secretary of Liaoyuan city committee of the Communist Party of China (CPC) in northeast China's Jilin Province, made an apology on Saturday to local people for the hospital fire accident that occurred Thursday afternoon.
"As a principal leader in the city, I felt deep regret for the fatal hospital fire. I failed to exert myself to the utmost, I apologize to all people in the city for the accident," he said.
"The city should draw lessons from the accident and launch a campaign to check up hidden danger in all enterprises and departments such as coal mines and hospitals," he added.
The mishap took place around 4:30 p.m. Thursday at the Liaoyuan Central Hospital, the largest hospital in the city, about 120 km. southwest of Changchun, capital of Jilin Province, leaving 39 people dead so far.

The death toll from a hospital fire rose to 39 on Friday.
Twenty-four bodies were found at the scene, and 15 people died after being transferred to other hospitals after the fire engulfed Liaoyuan Central Hospital late on Thursday. Liaoyuan is 120 kilometres southwest of the provincial capital Changchun.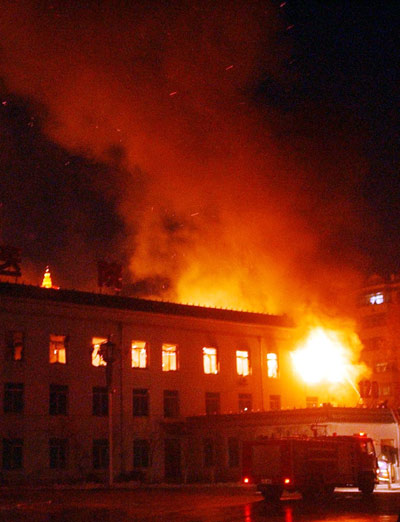 A huge fire engulfs Liaoyuan Central Hospital in Northeast China's Jilin Province December 15, 2005, killing at least 39 people. At least 33 of the victims were patients. [Xinhua]
Many jumped from windows or climbed down using bed sheets tied together to escape from the blaze, which could be viewed up to 10 kilometres away, witnesses said.
"We had a blackout soon after the fire broke out," said 42-year-old Dong Xiujuan, who jumped from the third floor and broke both legs and her waist.
"I became so desperate in the darkness as the corridors and rooms filled up with smoke," she sobbed, saying that her 73-year-old father, who was undergoing treatment at the hospital, was still missing. Her mother and sisters searched all hospitals that received transferred patients but to no avail.
"Two patients in the room, including my father, were too sick to jump from the windows," she recalled.
Nurse Chen Yanni said she helped 10 people escape using knowledge learnt from television. "I told the patients to cover their mouths with a wet towel and to climb down the window using bed sheets tied together," she said.
Xia Yong, a doctor with the hospital, told China Daily that most of those who jumped from the third or fourth floor either died or suffered bone fractures.
But a 15-day-old baby boy was safe after being thrown from the window and caught by his father on the ground.
Local rescue headquarters confirmed on Friday evening that 182 people were receiving medical treatment at seven other hospitals in the city, including 95 patients, 74 relatives, 11 hospital staff and two firefighters. Twenty-eight were in critical condition.