Rich men challenge family planning policy
(China Daily)
Updated: 2005-12-16 06:04
China's nouveaux riches are not only competing with each other to buy grandiose mansions and expensive cars, their latest status symbol is a brood of children.
Increasing numbers of wealthy people are skirting around China's family planning policy by simply paying fines to have more children.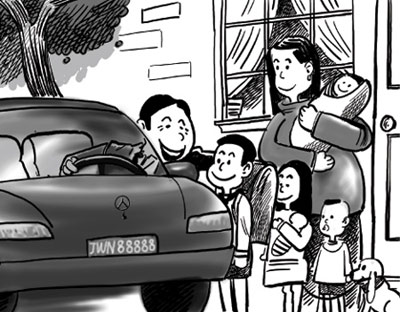 The policy was enacted in the 1970's to curb a huge population explosion. In 2002 the law was amended to allow ethnic minorities to have more than one child, and farmers to have a second child if their first was a girl. The changes were never designed, however, to allow city residents to have multiple babies.
The recent amendments introduced fines as a means to prevent mothers from giving birth to more than one child. However, affluent people are now simply paying the "social maintenance fee" for a second and subsequent child.
A Beijing newspaper said it is a throwback to old attitudes that equates large families with wealth, status and happiness.
Business tycoons and showbiz celebrities are finding a number of ways of getting around the one-child policy. Many simply pay the fine, which can be as high as 150,000 yuan (US$20,000) for urban dwellers or as low as 7,000 yuan (US$900) for rural residents. Some wealthy people are even emigrating abroad for the sole purpose of having a second or third child whom they bring back to raise in China.