Millions of Iraqis vote in relative peace
(AP)
Updated: 2005-12-16 08:31
Millions of Iraqis, from tribal sheiks to entire families with children in tow, turned out Thursday to choose a parliament in a mostly peaceful election.
So many Sunni Arabs voted that ballots ran out in some places. The strong participation by Sunnis, the backbone of the insurgency, bolstered U.S. hopes that the election could produce a broad-based government capable of ending the daily suicide attacks and other violence that have ravaged the country since the fall of Saddam Hussein.
Difficult times lie ahead, however. The coalition of religious Shiite parties that dominates the current government is expected to win the biggest portion of the 275 seats, but will almost certainly need to compromise with rival factions, with widely differing views, to form a government.
Up to 11 million of the nation's 15 million registered voters took part, election officials estimated, which would put overall turnout at more than 70 percent.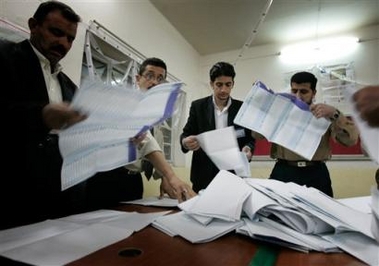 Iraqi election officials count the votes at an election center in Baghdad, Iraq Thursday, Dec. 15, 2005.[AP]

Many Sunnis said they voted to register their opposition to the Shiite-led government and to speed the end of the U.S. military presence.

"Liberation is the most important thing for all Iraqis," said Sunni grocer Omar Badry. "I don't care if we die of thirst and hunger, as long as the Americans leave."

Opposition to the American military presence runs deeper among Sunni Arabs, the minority group which enjoyed a privileged position under Saddam, than among any of Iraq's other religious and ethnic communities.

While Sunnis were defiant, Shiites and Kurds seemed hopeful the new government would be more successful than the outgoing one in restoring security.

A common theme, however, appeared to be a yearning for an end to the turmoil that has engulfed Iraq since the U.S.-led coalition invaded in March 2003 to topple Saddam's regime.

"The first thing we want from the new government is security," said Hussein Ali Abbas, a 66-year-old Shiite as he voted at Baghdad's city hall. "We are surviving but it is a struggle."

Officials said it could take at least two weeks until final results are announced for the parliament, which will serve a four-year term.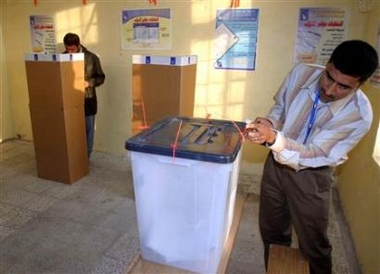 An electoral independent commission worker examines a ballot box as voting begins during Iraq's historical parliamentary elections in the Iraqi city of Basra, 549km (341 miles) south of Baghdad, December 15, 2005. [Reuters]

Violence was light. Insurgent groups, as promised, generally refrained from attacks on polling stations. In the Sunni Arab militant stronghold of Ramadi, masked gunmen provided by local sheiks guarded polling stations, frisking voters as they entered.

Thursday's election appeared on track to record more votes than any other parliamentary election in an Arab country ¡ª though more than 17 million people voted in a May referendum in Egypt, and more than 14.6 million in a September referendum in Algeria, according to IFES, a nonprofit organization that supports building democratic societies.

"The number of people participating is very, very high, and we have had very few irregularities," U.S. Ambassador Zalmay Khalilzad told The Associated Press. "It is a good day so far ¡ª good for us, good for Iraq."

US President Bush called it "a major step forward in achieving our objective." U.S. officials hope a broad-based government will be able to quell the bloodshed so that the United States can begin to bring troops home next year.