Birthplace of China martial arts damaged
(AFP)
Updated: 2005-12-16 07:00
More than 20 pagodas at China's famous 1,500-year-old Shaolin Temple complex have begun to tilt and crack after a burst water pipe damaged their foundations.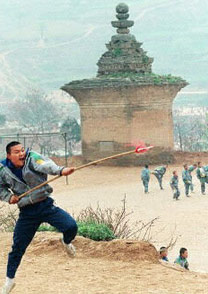 Students practice kung fu next to the famed Shaolin Temple. [newsphoto]

The oldest pagoda in the complex, which dates back to the Tang Dynasty of 618-907 AD, has a crack in it 100 centimetres (40 inches) long and two centimetres wide, Xinhua news agency said Thursday.

Monks have used four pieces of wood from a big tree to support the Fawan pagoda.

At least 20 pagodas are tilted and cracked after a fracture to a water pipeline three months ago soaked their foundations and flooded some of their inner areas.

The damage to the Shaolin complex -- famous as the birthplace of China's martial arts -- comes after local authorities applied to the United Nations for it to be listed as a world heritage site.

World heritage listing was needed to help protect the site in central Henan province from damage, Chinese authorities said when the application was first reported in March this year.

Shaolin has become a major tourist attraction in recent years, with foreigners eager to see first-hand the monks' spectacular form of kung fu.

An estimated 10,000 foreigners have taken classes since the temple area opened to tourism in 1988.