China reports 6th human case of bird flu
(Chinadaily.com.cn/AFP)
Updated: 2005-12-15 21:29
A new human case of bird flu was reported in Suichuan County, east China's Jiangxi Province, according to a Ministry of Health announcement Thursday evening.
It said the patient, a 35-year-old man, is a private vendor. He developed symptoms of high fever on December 4 and was admitted into a local hospital, a Xinhua dispatch says.
The ministry experts confirmed the human case of bird flu, and the ministry has reported it to the World Health Organization and noticed Hong Kong, Macao and Taiwan regions, as well as some countries.
He is the sixth human case of bird flu reported in China.

Also on December 15, an outbreak of bird flu in the same county was confirmed by the Ministry of Agriculture, the first reported outbreak for more than two weeks.
The outbreak, at a farm where 1,640 ducks had died from the disease, was confirmed as the lethal H5N1 strain of avian influenza earlier Thursday, the agriculture ministry said on its website.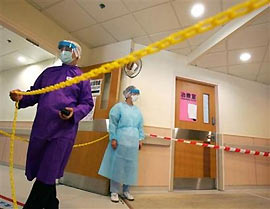 Nurses cordon a corridor inside a hospital as part of a drill on the outbreak of bird flu in Hong Kong November 8, 2005. [Reuters]

The duck farm was located in Quanjiang village, part of Suichuan county in the west of Jiangxi, near the border with Hunan province where at least one human case of bird flu has been detected in recent weeks.

The local veterinary authorities proceeded according to standard operating procedure, culling 150,000 domestic birds within a 3-kilometer radius of the outbreak, according to the ministry.

This marks the 31st outbreak of bird flu in China this year, according to previously published government data.

The most recent outbreak before Thursday's was announced on November 30 in the westernmost region of Xinjiang.

On Wednesday the nation's chief veterinary officer told reporters the absence of bird flu for more than a fortnight signaled "initial success" in the endeavor to control bird flu.

Despite initial success, sporadic cases are likely to emerge in winter and next spring, which means infection control is still a challenge, Jia Youling told a press conference in Beijing on Wednesday.

"Winter and spring are peak seasons for bird flu, and 60 per cent of China's domestic birds are raised on backyard farms with inadequate management, making epidemic prevention difficult," said Jia, also chief of the Bureau of Animal Health under the Ministry of Agriculture.